Ugly Christmas Sweater Voting Ballots Free Printable
This Christmas season, as you are planning your holiday parties, you might want to consider taking your Christmas party to a whole new level by having an ugly Christmas sweater contest. I have just the thing to help with your part, these free ugly Christmas sweater voting ballots in this free printable will help make the party easy for you to plan, and fun for everyone!
Having the theme of a tacky sweater Christmas party is so much fun! No matter if you are looking to have a Christmas party for your friends, or it's a work party this upcoming holiday season, consider having an ugly Christmas sweater-themed party. It will get your guests slightly out of their comfort zone, and interact in an entertaining way with this fun game themed party.
When planning your holiday parties, you can use these free ugly Christmas sweater voting ballots, to determine the ugliest Christmas sweater at the party. There are so many fun ways to jazz up an ugly Christmas sweater. You might be surprised at some of the ugly Christmas sweater ideas that they come up with!
It can be a lot of fun to see everyone's personalities shine through their creativity. Plus, you won't have to worry about the ugly sweater ballot, because I have created these free downloads that will have every aspect covered for you, there's no need for you to worry about it.
Ugly Sweater Theme Holiday Party
This ugly Christmas sweater party kit includes a digital printable file in PDF format so that it is readable on any device. You can encourage the theme of your party, with your party guests, by using the voting ballots as the hit of the night. This is the perfect way to encourage all of your guests to dress up and have a fun time with their ugly sweater outfits.
Let's take a look at what is included in this free download for your ugly Christmas Sweater party.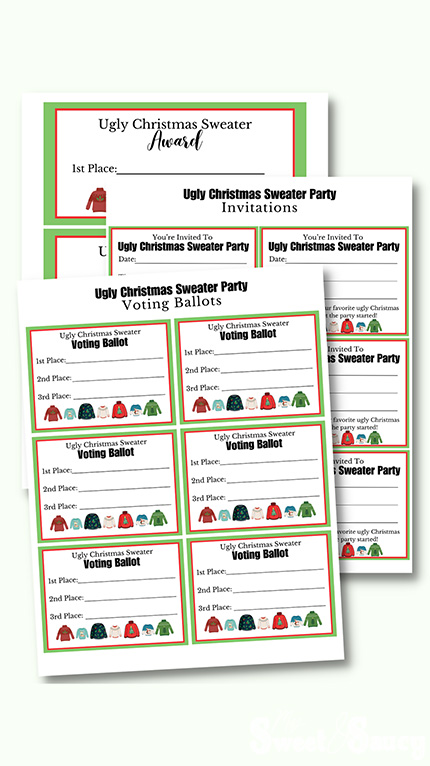 Ugly Sweater Christmas Party
Hosting ugly sweater parties is a lot of fun. But of course, by the end of the night, you should pick a winner, or winners by category, however, you prefer to structure your party. To do this, I have created an ugly Christmas sweater party kit, including voting ballots. In addition to the voting ballots, there are a few other items included in this free download as well.
Ugly Sweater Party Invitations
Included in this free download you will find a digital printable invitation for your ugly Christmas sweater party. You can adjust the invitation for your specific needs, with your party details, then print them out, and distribute the invitations as desired.
Welcome Sign
In this party kit, you will also find a basic welcome sign. You may choose to add your specific party details to it, or you can use the plain welcome sign at your event.
Ugly Sweater Voting Sign
The printable voting sign is another page that is included in this ugly Christmas sweater kit. You can add the details for how you want to play your game, then put it in a picture frame or hang it at the table with your voting ballots.
Ugly Sweater Voting Ballots
The ugly sweater voting cards are one of the most important things in this printable party kit. You can design a sample ballot, so that your guests will know exactly how to fill it out, then print out the free voting ballots, cut them out, and add them to your table.
There are a few different ways you can use these blank ugly sweater templates. The first would be to have your guests take an ugly sweater poll, simply picking their top three favorite ugly sweaters. With this method, you would have first place, second place, and third place winners.
Another way to use these fun printable ballots is to designate different categories of winners that you want to choose. Then have your guests write in names for each category of ugly sweater.
Make sure that you have your guests fill out their ugly Christmas sweater voting ballots before the end of the night.
Ugly Christmas Sweater Tally List
After all of the votes are in, you can use the ugly Christmas sweater tally list to count all of the votes for each person participating. Once the winner of each category, or you have determined your 1st, 2nd, and 3rd place winners by the number of votes they received, you can announce the different winners.
Ugly Christmas Sweater Templates Award Printables
As mentioned above, you might enjoy breaking the winners into different categories. You can easily do this and use the pages of ugly Christmas sweater awards as the certificates for each of your winners.
You might also enjoy coming up with various types of fun trophies to give the winners, depending on how hardcore you want to go! The main thing is to have fun and get creative. Your guests are bound to enjoy the activity as well!
Free Ugly Sweater Printables
Please note that this ugly Christmas sweater party kit is a digital download, no physical prints will be sent to you. You can easily print these high resolution pdf files are your local print shop, or right on your home printer.
To receive your copy of these instant download files, please enter your email address into the box below. Then check your email inbox for a message from me. Once you receive your copy of these PDF files, you can save them and print them out as many times as you wish.
Please note that these ugliest sweater party ballots are intended for your personal use and should not be used for commercial distribution under any circumstances. Thank you!
Ugly Sweater Party Printables
Determining Christmas party themes can sometimes be a challenge to come up with a good one that your guests will enjoy. No matter if you are planning a Christmas party for your friends, or for your office, these ugly Christmas sweater voting ballots in the free printable will help you to prepare for your own ugly sweater party!
Thank you so much for stopping in to check out these free ugly Christmas sweater voting ballots. I hope that you will take advantage of these free printable files for your next Christmas party. Enjoy!
Wishing you a Merry Christmas and Happy Holidays!
Like this article? Be sure to follow us online for more like it! Find us on Pinterest, Facebook, Instagram, and YouTube.
Be sure to check out more FREE Printables!
PIN for Later!