Budget by Paycheck Worksheet
This free budget by paycheck worksheet will make a great tool to help you manage your personal finances. If you are looking to start a personal budget in a manner that is simple and easy to use, then you should consider taking advantage of this budget by paycheck worksheet download.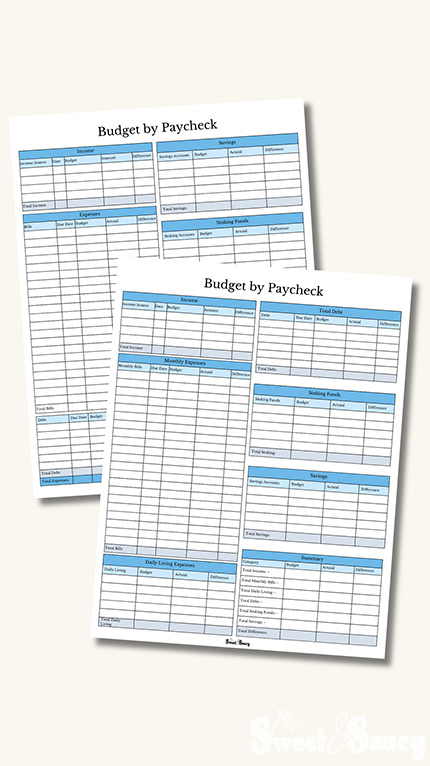 Once you get your free copy of this budget by paycheck worksheet, you can start by determining what your goals are, and what your monthly expenses are, then begin your journey towards achieving all of your goals. Starting your personal budget today is the first step towards financial freedom and attaining any money goals you might have for yourself or for your family. Today is never too late to start planning your budget.
Sometimes getting the hang of personal finance is difficult, and often people struggle to manage their own money. While I am not a financial advisor of any kind, I do have a strong background in finance and accounting, and helping people with their finances is one of my passions. That is why I have created this free budgeting worksheet just for you!
It is my hope that you will find this instant download to be a great tool to help you manage your personal finances. This free budget by paycheck worksheet is one of the best budget templates because it is customizable, very simple to implement in your daily living, and it is completely FREE which is also great for your budget! Lol
You don't have to make a lot of money in order to start a budget. In fact, everyone can use a good budget to help manage the money that they have to work with. Starting with a new budget might be scary, but it will help you to know where your money is going, and make sure you are never surprised by a bill, and unprepared to pay it.
Implementing a good budget will help you to stay on top of bill payments, not be surprised by those credit card statements, and not spend more than the resources you have available to you.
Let's take a deeper look at this budget by paycheck printable worksheet!
Paycheck Budget Worksheet
What is a paycheck budget worksheet? The main difference between a paycheck budget worksheet and a monthly budget is that the paycheck budget is based on the expenses that you have per pay period. This is compared to the monthly budget looks at the calendar month as a whole, to determine all of the expenses that you will need to pay that month, and then estimates how much income you should have during the month to cover those expenses.
This means, rather than looking at your monthly bills you owe, you will take your paycheck's actual income, and divide it up into your monthly expenses. Depending on how often you get paid, you might need to create several paycheck budgets to equal out your entire monthly expenses.
Looking at your budget by paycheck can help you better determine how much you have to go towards different things, for that specific paycheck. For example, things you would want to include in one paycheck budget would be items like going to the grocery store, and how much you have to spend on groceries during that time frame.
Another thing to consider would be your savings goals. If there are any extra funds, then it is very important to set money aside for savings or emergency fund savings.
When considering your paycheck budget, it is also very important to remember to set money aside for large bills that you have coming up. There are several bills that are only due once a year, or every few months.
Then there is discretionary spending. Those could be fun items or necessary items that come up during your pay period. If there is any extra money left over, it's important to put it away for later. Then you can begin planning for your next paycheck and budget accordingly.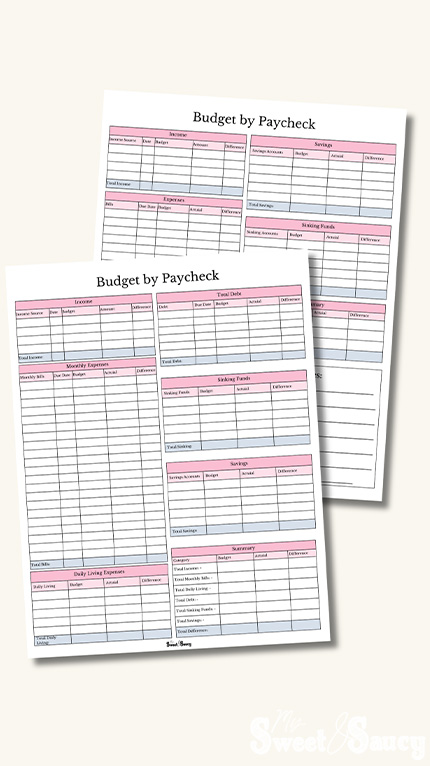 Paycheck Budget Worksheet
When planning your paycheck budget worksheet, keep in mind that some of your expenses that occur will be fixed, so that you can easily plan for them, and others will be variable expenses. Because your variable expenses change from month to month, it can be difficult to plan for those, but if you have good records, you can usually forecast an estimated amount of what those items might cost.
In addition to planning for your fixed and variable expenses, you might also want to plan for contributions to charitable organizations when possible. No matter what your favorite organizations might be, it's good to remember to support those causes when you are able.
The other key part of planning your budget by paycheck is to remember to allocate funds to your savings accounts, in addition to your fixed and variable expenses. This means that you will want to be careful to not overspend what you are bringing in during a pay period.
These are a few simple ways you can begin to consider planning for your budget by paycheck. When you determine what different expenses you will have during the pay period, make sure to take advantage of these free printables so that you can implement the budget by paycheck to start working towards your financial goals.
Free Printable Budget Templates
When you first start to use the budget by paycheck method it can be quite confusing. The best way to implement this type of budget is to sit down and determine what each of your monthly bills are, when they are due, and how much they will cost. Once you have this figured out, you can break up the amounts by paycheck so that you can put money towards them each pay period.
You can also use this paycheck worksheet to track your spending habits. Perhaps you always overspend on your eating-out budget. If this is the case, perhaps you need to either adjust your habits, or adjust your budget.
Another great idea in using these budgets by paycheck worksheets is to print them out and add them to your budget binder. That way the sheets are combined all in one location, and you can use them for a reference, or to help you know how much funds can roll over at the end of the month.
Free Budget Template
This budgeting tool is a great resource, not only because you can use the printable template to set specific goals and start planning how your next paycheck needs to be allocated, but you can also set specific budget categories that work for your needs. This allows you to customize the printable for your specific needs so that it works well for you.
You can also use your budget as a tool to set specific goals you wish to accomplish with your finances. Then use the budget to reach your financial goals. Using the budget by paycheck just might be the post you need to enjoy financial freedom!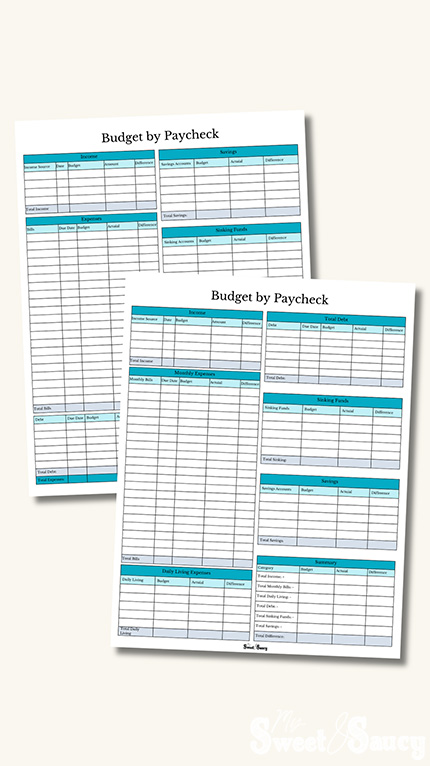 How to Use the Free Budget by Paycheck Worksheet
Using the budget by paycheck is easy. First, you will want to get your free copy of this printable worksheet. To do that you can jump to the next section.
Once you receive your printable worksheet, feel free to adjust any categories you desire. Once the categories are set, you can print out the worksheet and start using it.
To start using the budget by paycheck it is a good idea to identify all of the bills you will need to pay during the month. Then divide those bills by the number of pay periods you will have during the month. Remember to include larger bills in these numbers that might not be due every month, but ones that you will still need to save up for.
After you know how much you will owe you can set up your estimated budget for by pay period, and then simply use it for each pay period to keep track of your actual income and expenses during that time frame.
Free Printable Budget Worksheets
These free printable budget by paycheck worksheets are available as a digital download. These downloads are created in a PDF file so that they are readable on any device. To receive your copy of this simple budget, please enter your email address into the box below, then check your email inbox for an email from me with these free resources attached.
Please note that these budget by paycheck worksheets are intended for your personal use only and should not be used for commercial distribution under any circumstances.
These files are created as a gift for you so that you can better manage your personal finances, and hopefully reduce any stress managing your money has brought you in the past.
Free Printable Monthly Budget Template
As another option of free budget printables that I have created for you, you might also enjoy this family budget planner. It is a free budget printable created as a family budget worksheet that you can download, customize, and print out to help you plan your family's budget.
The family budget planner is created to be used on a monthly basis. That way you can estimate how much your monthly income will be, and then set up your monthly expenses, including both fixed and variable expenses.
The main difference between a monthly budget and a budget by paycheck is that the monthly budget is set up by bills that are due during a calendar month, and the paycheck budget is determined by how much money you are making during a specific pay period.
The goal of each budget is the same, they are simply set up a little differently. Which one works better for you will depend on your personal preference, and also how often you get paid.
Paycheck Budgeting
Using this free budget worksheet is a great resource to help you begin to manage your money. The paycheck planner will help you determine how much of your paycheck needs to be distributed amongst several bills that will need to be paid during a given period. It doesn't matter how much money you make or have to save, the key to achieving your financial goals is to come up with a plan and start working towards your goals.
Today is not too late to begin working towards your financial goals. Tomorrow is another story altogether because tomorrow never comes.
Thank you so much for stopping by to check out my free budget by paycheck worksheet. This worksheet was created just for you, and I hope you will take advantage of this free budget resource.
I have many more digital products that you might be interested in. Make sure to check out these FREE Printables including more free printable monthly budget sheets.
I hope that you have found these resources to be very helpful to you! Have a wonderful day! 
Like this article? Be sure to follow us online for more like it! Find us on Pinterest, Facebook, Instagram, and YouTube.
PIN for Later!