Chore Chart for Kids Printable
Using a printable chore chart for kids is a great tool to help you stay organized, teach your kids responsibility, and help them learn some time management as well as the benefits of hard work along the way. I am so excited to share this free printable for a kid's chore chart with you.
Responsibility and Time Management
My hope is that you can use the simple chore chart as a great way to have your older kids as well as younger kids become responsible family members and learn the benefits of hard work as well as the pride of a job well done. Using this simple chore chart printable is a great way to help older children and young kids, no matter what their age group take responsibility for a task around the home and become family member that helps the rest of the family stay neat, clean, and organized.
Of course, as you look at each task for your kids and each member of the family, it's important to remember that everyone is assigned age-appropriate chores. Simple tasks are going to be ideal for little kids, and young children may also need more supervision to make sure each task is accomplished.
The important thing to remember is that even at a young age, you can still teach kids to take responsibility, as well as how to help with a few basic chores. As your children grow, you can adjust the kinds of chores they are responsible for, at different ages.
Even though it can be so much easier for you to simply take care of everything, teaching your children at a young age to help with simple tasks can teach your kids responsibility, and help them learn the importance of being a responsible person. This is a very easy way to help teach your kids basic responsibility as well as time management from a young age.
Plus, using the chore chart for kids, in the whole family is a good way to make sure that everyone stays organized during the summer and during the school year. The bright colors decorating these chore chart printables are a good way to help make the chores fun. We will also explore a few different ideas later as to how you can implement the chore chart and make it a lot of fun in the process.
Household Chores
In each household, there are different chore tasks that need to be completed. No matter what type of household you are in, every household has things that need to be done each day, week, or even sometimes each month.
By using a printable chore list, you can write down a visual list of chores, that the kids as well as adults in your household can help with. Remember the old saying, "Many hands make light work"? This saying is still true today and is very true when it comes to household chores that need to be completed.
Daily Chores
Most chores will be done on a daily basis. These daily tasks might be items like washing the table, making meals, sweeping the floor, putting dishes away, or picking up items around the house. If you have kids in the house, then one thing you might want on your daily chore chart is to clean up the toy at the end of each day.
It's a great idea to help your children tinker with responsibilities, especially for the messages that they make. But also, you can assign kids age-appropriate tasks that they are also responsible for each day.
Weekly Chores
There are also weekly chores that the chore chart system can help you manage. Using a chore chart for weekly chores is a perfect solution to help make sure that each item is done at the end of the day, or the end of the week. Plus, it's a visual reminder to the individual responsible for each chore.
Some weekly chores late look like taking the trash out, doing laundry, cleaning the bathrooms, and cleaning specific rooms in the house. Using a chore chart is a good way to help hard workers accomplish specific tasks each week.
Using a chore chart also helps everybody learn responsibility for their own tasks, as well as enjoy the benefit of a clean home. Delegating different tasks might be a bit difficult in the beginning stages but in the long run, will be beneficial to everyone involved.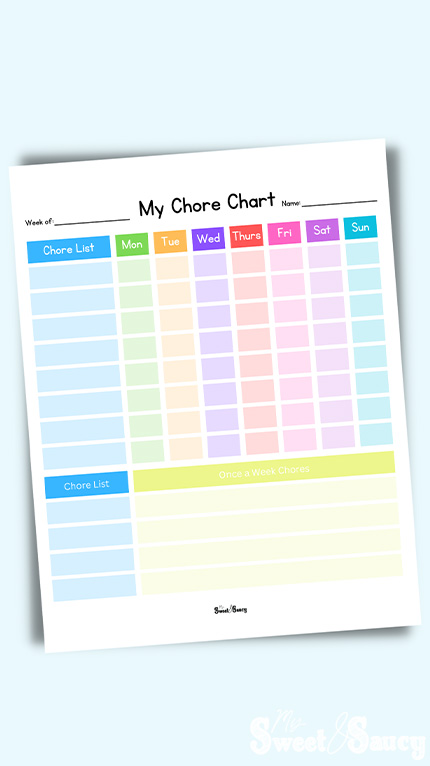 Chore Chart Ideas
In addition, assigning each individual in your household specific chores that they are responsible for, either on a daily, weekly, or monthly basis is a great way to help your household function, and teach everyone responsibility, as well as the benefits of hard work. With so much design today for instant gratification, you can also help teach your kids good habits, hard work, and delayed gratification.
After you have determined the basic chores, you wish to outline on the chore chart, you can then assign an individual responsible for each task. Keep in mind that the individual responsible for that task can change from week to week, or you can keep it the same.
Chore Ideas
Here are a few chore ideas for you that will help you start thinking about different tasks that need to be accomplished in your home.
Sweeping
Clean the bathroom
Toy clean up
Clean up by room
Take pets out
Make meals
Clean up after meals
Do the dishes
Do the laundry
Put dishes away
Fold the laundry
Feed pets
Young Children Chore Ideas
Ages 2-4
Get dressed
Brush teeth
Make the bed
Put dirty clothes in the laundry
Ages 5-6
Fold laundry
Put laundry away
Put condiments away after meals
Wipe off the table
Feed the pet
Pull weeds
A Reward System
Depending on your situation, you might also consider implementing a reward system. This doesn't have to be anything extravagant, but a simple reward system can help your child get the motivation that they need.
For example, you might consider rewarding your child with some ice cream at the end of the week, or month if they accomplish each task as directed. Another reward might be allowing them a specific amount of time to play video games after each task is accomplished.
It's entirely up to you what that reward system might look like, as well as the time frame that is set up for it. After all, you know your situation the best and can determine what the best reward and time frame would be.
Instilling a Sense of Responsibility and Accomplishment
By allowing your children to help with basic chores around the house, not only are you teaching them a good work ethic, but you are also helping them to learn responsibility for completing a task, and you are also allowing them a sense of accomplishment when the task is complete. They can take pride in the fact that they completed a job, and it was well done.
Honestly, there are so many good things that you can teach your children, and each member of your household, simply by allowing them the space and giving them the grace to learn how to complete different chores.
Sometimes it can be difficult to sit back and let someone make mistakes that you could do without even thinking about the task. But by sitting back and allowing someone else to take the responsibility for that chore, they are not only learning how to do it, but they're also going to take pride in their finished project.
Using The New Chore Chart
In addition to using the chart to help your children learn the responsibility, there are a few different ways you can make it into a fun chore chart. First, this chore chart has been designed so that it is brightly colored and fun. You can take the blank chart and fill it in with each child's chores, so keep in mind that the chores need to be age-appropriate for each person.
You can also stick the printed-out chore chart inside of a plastic page cover and use dry erase markers to write on the chore chart. Another option instead of using dry-erase markers is to fill in your desired names and tasks, then print out as many copies as needed.
Weekly Chore Chart: How to Get Your Free Copy
To get your free printable chore chart template, you will first want to enter your email address into the box below. Then a PDF file will be sent directly to your email inbox. From there you can download the file and print it out as many times as you wish. 
Please keep in mind that this PDF file is intended for your personal use only and should not be used for commercial distribution under any circumstances.
Make sure that you take these free kids chore charts, and adapt it into your own chore chart, so that you can get the most out of these printable chore cards and adapt them to fit your family's needs. 
Family Chore Chart
These free chore chart printables are a great way to get the whole family involved in learning lessons and responsibility and feeling the success of their accomplishments. This printable is a great chore chart, because of the beautiful colors, and adaptability, making it a perfect way to implement a chore chart for your kids, or for the whole family.
Thank you so much for stopping by, to check out my free chore chart for kids printable. I hope that you enjoy this colorful chore chart, and I hope that it works out well for you!
Make sure to check out more, FREE Printables!
Like this article? Be sure to follow us online for more like it! Find us on Pinterest, Facebook, Instagram, and YouTube.
PIN for Later!