Printable Hourly Calendar
I am so excited to share this free printable hourly calendar with you and help you organize your schedule much more easily. This printable planner will help you with time management and organizing your daily schedule with this daily schedule template.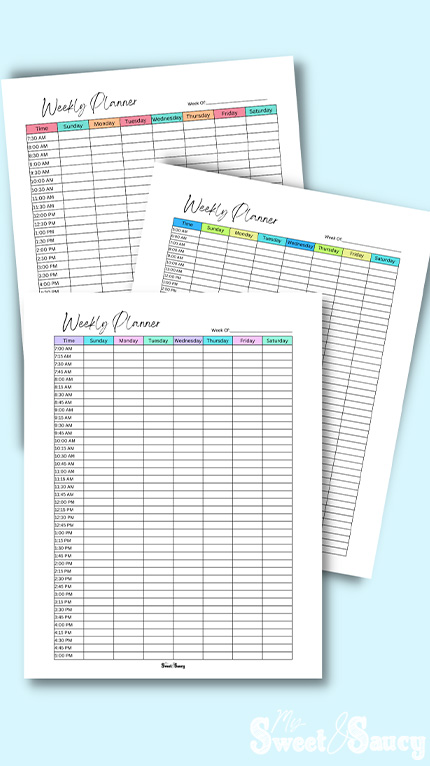 The best part is that it is an entirely free hourly planner, which means it has no cost to you, and you can utilize it in your daily life. My hope is that this calendar will help you organize your to-do list or other tasks or goals you wish to accomplish each day. 
By listing it out in this visual manner, you can easily estimate how much time you have to accomplish what is needed, and it helps you to organize your tasks by priority. I hope that it will simplify and make your life have much less stress among the busyness of daily living.
Hourly Schedule Template
There are many different uses for this free printable hourly calendar. First, this calendar is broken up by days of the week and covers an entire week. Each day of the week is broken up into hours and even down to quarter-hour sections so that you can schedule out different important tasks throughout the day.
These daily tasks are likely your to-do list, work schedule, or other items you want to accomplish in your personal life. Using this hourly calendar, you can easily have a visual look at your schedule for each day, over an entire week.
This free hourly calendar can also help you organize how much time you think each task on your to-do list will take each day. You can schedule set times for different things like appointments, chores you need to accomplish, or any other specific scheduling items. The time blocks will help you to set aside a specific amount of time that you think each task will take.
Another great use of this free printable hourly calendar is to keep track of school calendars, all the activities going on, or even your class schedule. You can also use it to keep track of appointments, and personal goals, or even as habit trackers.
There are so many different great uses, that you can enjoy with this free hourly calendar printable.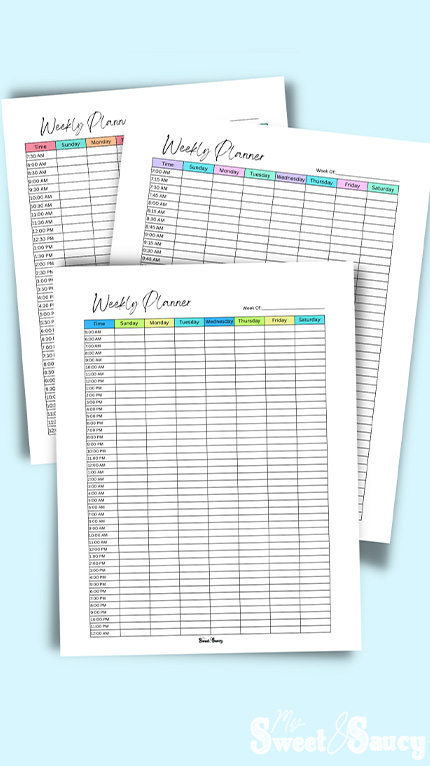 Weekly Hourly Planner Template
The free printable weekly calendar is broken out into days of the week, then into hours in quarter hours. There are many different planner options that you can choose from with this free download. The goal is for your ease of use to increase, making it very easy to stay organized and be able to plan your daily goals in a simple way.
We are all busy people, and sometimes achieving daily goals, keeping track of your to-do list for a specific part of the day, or even just organizing your day, in general, can be a challenge. No matter if you are planning a particular task, or just looking to organize your day in general, this printable hourly calendar can help you out.
There are many important things that you have on your plate to juggle and keep straight, which is why I hope you will find this to be the best hourly planner. It will be a great tool to help you schedule your day and even your week.
Weekly Schedule Template
The daily planner templates include a daily calendar, which is broken out into different sections to help you plan the day.
The calendar template covers an entire week, but the weekly planner template is broken out into different days of the week, then each day by the hour, so that you can plan your personal or professional life. You can even use this printable hourly calendar to help a small business plan different tasks, or other items that need to be accomplished.
No matter what purpose you desire this weekly calendar template for, it can prove to be a very useful tool, with the blank templates for you to fill in your specific tasks and the time needed to accomplish each task.
Ready-Made Templates
My hope in creating and providing the free printable hourly calendar to you is that these templates can help you track your main goals and daily routines so that you can set aside time for each item you need to accomplish.
The hour planner will help you to break each task out into how much time you need to allot to the task on an hourly basis so that you can accomplish it and organize your day and even the entire week.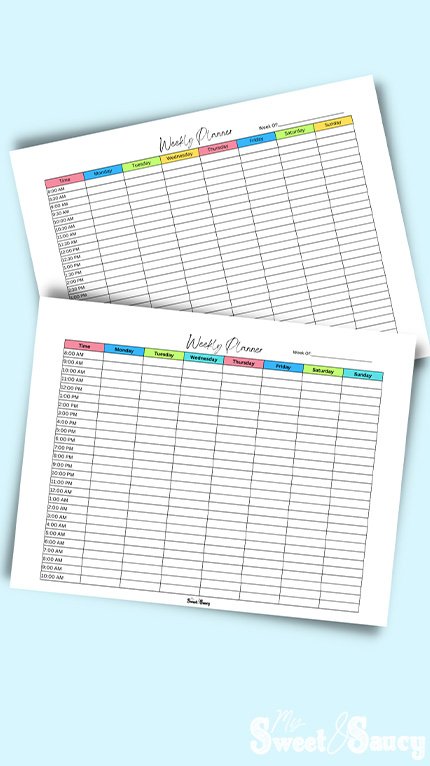 Free Printable Daily Planners
This free printable hourly calendar comes in a PDF format so that you can enjoy it as a digital file or print it out and fill it in by hand. Because it is a PDF file you can use this free download on any mobile device, computer, or any device in general.
To receive your free digital planner, all you have to do is enter your email address into the box below, then the printable calendars will be sent directly to your email inbox. You can download the file onto your computer and print it as many times as you wish.
Please keep in mind that this free hourly calendar printable is intended for non-commercial use, meaning that it should be used for your personal use only. Not for commercial distribution.
After you have your file, you can print out the hourly planner PDF, then fill in the digital planner with your necessary tasks. Please note that this file is available in landscape orientation so that the entire week fits on one page.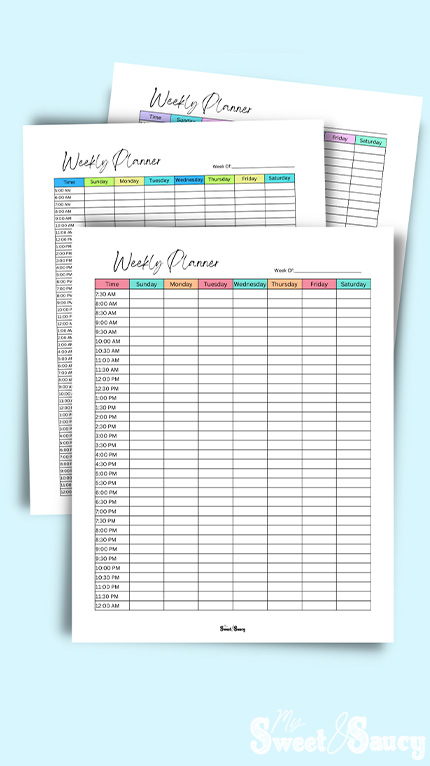 Printable Hourly Calendar Template
This free printable hourly calendar is intended to help you organize your daily schedule. This daily hourly planner can be filled in with each task you need to accomplish on a given day, with an estimate of how long you think it will take to finish. This way you can easily organize your schedule to keep track of your to-do list or any goals you wish to accomplish.
It is my hope that this hourly calendar printable will help you to stay organized, but at the same time simplify your life so that it is more stress-free. I hope that you take advantage of this free printable, and I hope that you enjoy it! Thank you so much for stopping by to check out my free download.
Check out more FREE Printable Files!
Like this article? Be sure to follow us online for more like it! Find us on Pinterest, Facebook, Instagram, and YouTube.
PIN for Later!