Prayer of Protection Psalm 91
Some days we all need a reminder, which is found in the prayer of protection of Psalm 91. Psalm 91, located in the book of Psalms, in the Holy Bible, walks us through times of uncertainty, which we all experience during this life here on Earth.
I have created a printable, based on the prayer of protection found in Psalm 91, that you can enjoy as my free gift to you. To get your free copy, you can enter your email address into the box, at the end of this post. I hope that this prayer of protection will serve as a daily reminder to you, that you can hang around your home.
Some believe that Moses wrote this specific psalm, however, others believe that King David wrote this song, reminding us of his prayer of protection. Ultimately the author of this passage of scripture is not as important, as the contents of the prayer. Unlike that time in history, we also have the Holy Spirit that can help to guide and protect us in our daily lives.
Psalm of Trust
One of the main themes seen throughout this entire chapter of the book of Psalms is that the author believes in a divine presence, and also has an intimate relationship with God, the creator.
This trust and closer relationship with God, serves as a source of comfort in these powerful chapters. You can also use these verses as a prayer of protection scripture, in your time of need. Let's look at a few key themes, and key verses in this chapter of the Bible.
God's Promises
God's promises are true, and just like the author of this Psalm, you and I can also hold onto these truths. Psalm 91 opens with "He who dwells in the secret place of the Most High, shall abide under the shadow of the Almighty." Or as some translations say, "in the shade of the Almighty."
God keeps his faithful promises and will never forsake those who replaced their trust in him. The author goes on to say, "I will stay of the Lord, 'He is my refuge and my fortress; my God, in Him I will trust.'"
The dwelling place of a true believer is in the presence of God. By placing your trust in God alone as Savior, God promises that He will never leave you or forsake you (Heb 13:5). Meaning that you will never be abandoned.
1 He who dwells in the secret place of the Most High
Shall abide under the shadow of the Almighty.
2 I will say of the Lord, "He is my refuge and my fortress;
My God, in Him I will trust."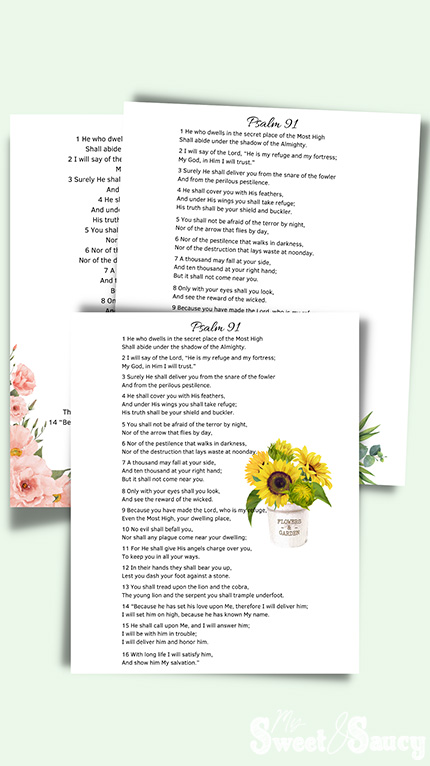 God's Protection
Psalm 91 is a continual prayer of protection. This Psalm of Protection begins first by saying that the author will dwell in the secret place of the most high, or in the shelter of the most high. Then after he says that the Lord is his refuge and fortress, and he will place his trust in God, he goes on to continue to describe God's protection of his life in detail.
God's divine protection can first deliver him from the Fowlers snare. What is the snare of the Fowler you might ask? Merriam-Webster's dictionary defines a Fowler as a person who hunts wildfowl. (Source) In this context, a Fowler's snare is a trap set to catch wild birds as they Unsuspectingly cross paths with a bird hunter.
Charles Spurgeon has an entire commentary on this as well. His take on Psalm 91 is that the Fowlers snare refers to the king of Egypt, Moses wrote the Psalm, who was trying to track down Israel, to keep them from leaving slavery. Reverend Spurgeon also suggests that if David was the author of Psalm 91, then he could be referring to Saul, who is seeking to hunt him down and kill David. (Source)
Ultimately, these verses, point out that God will provide divine protection, and make sure there is a safe place to hide from the deadly presence, that might be seeking to kill and destroy.
3 Surely He shall deliver you from the snare of the [a]fowler
And from the perilous pestilence.
4 He shall cover you with His feathers,
And under His wings you shall take refuge;
His truth shall be your shield and [b]buckler.
The imagery presented here is that God will provide a hedge of protection over and around you during times of great need in your life. No matter if it's the terror of the night, times of famine, or in spiritual warfare, God will be by thy side, and provide great comfort to you during difficult times.
God knows every single thing about us, whether it's the number of hairs on our heads (Luke 12:7) or the length of days he has set for us on Earth (Job 14:5). Therefore, remembering that God is the one who is ultimately in control of our daily circumstances, is very important.
5 You shall not be afraid of the terror by night,
Nor of the arrow that flies by day,
6 Nor of the pestilence that walks in darkness,
Nor of the destruction that lays waste at noonday.
7 A thousand may fall at your side,
And ten thousand at your right hand;
But it shall not come near you.
8 Only with your eyes shall you look,
And see the reward of the wicked.
God's Presence
By dwelling in God's presence and seeking Him as your shelter and place of safety, you can have refuge and comfort during times of trouble. There are many examples of this throughout the Bible, of people who went through very difficult times in life, but still continued to seek God, and we're ultimately surrounded by God's presence no matter how much they struggled through their circumstances in life.
9 Because you have made the Lord, who is my refuge,
Even the Most High, your dwelling place,
10 No evil shall befall you,
Nor shall any plague come near your dwelling;
The Power of God
God's power is unfathomable. That's a big word, for saying that we can't comprehend how great God's power really is.
Yet, at the same time, we can easily call on the name of the Lord, and he will stretch out his right hand to protect us from a great lion as he did with David, a demon spirit as many examples throughout the Bible show, or as this example in Psalm 91 shows, you can tread upon the young lion, and the serpent, without getting hurt.
11 For He shall give His angels charge over you,
To keep you in all your ways.
12 In their hands they shall [c]bear you up,
Lest you [d]dash your foot against a stone.
13 You shall tread upon the lion and the cobra,
The young lion and the serpent you shall trample underfoot.
It just seems so crazy, that we can approach God, with prayer requests, and express our concerns, hopes, and dreams for our daily lives, and he cares about them. No matter what struggle in life you might be experiencing, God is there, and will send his Holy Spirit to help you through it.
Proclamation of Faith
Psalm 91, verses 14 through 16 transitions to being from God's perspective, as if God himself is speaking. Through these verses, we see God's faithfulness to the promises he has made to his people.
So, who is almighty God speaking to in these verses? Is it just anyone? First, he specifically says that this is for those who have loved him, who know him by name, and who called out to the Lord God.
14 "Because he has set his love upon Me, therefore I will deliver him;
I will [e]set him on high, because he has known My name.
15 He shall call upon Me, and I will answer him;
I will be with him in trouble;
I will deliver him and honor him.
16 With [f]long life I will satisfy him,
And show him My salvation."
Those who love him and know him by name, are those that have an intimate, or personal relationship with the creator God. Then, God goes on to say that it is specifically those who call out to God, and he even says he will answer him. He doesn't say that it will be a favorable answer, but he will answer.
Those who placed their faith in God, for salvation and seek to honor him in their life, can find the promises of Psalm 91 to be true, and apply these promises to their life.
God's Word
God's word is unique because it is the inspired word of God. The words of Psalm 91 can serve as a reminder, that God keeps his promises in the prayer of protection. No matter if you are going through difficult times in your life, or things seem to be going smoothly, you can still find inspiration in these verses.
The Assurance of God
Those who have the assurance of God, who have been convicted by the Holy Spirit, and who placed their trust and the death and resurrection of Jesus Christ, our promised eternal life. His promises and words of comfort are important to remember during times of need or trials which we are all going to experience throughout different parts of life.
Prayer of Psalm
Psalm 91 is one of the most powerful prayers written to the God of Israel, in the Old Testament. This Psalm was likely written by either Moses or King David and was a prayer directed to the God of Israel.
Though at that point in history, the person of the Lord Jesus Christ had not yet come to save the fallen world. Since then, Jesus has come to Earth, where he suffered and died for you and me. Now, through the blood of Christ, you can call on the mighty name of Jesus for salvation.
And your daily prayer life, no matter if you are struggling or times are good, you can find comfort in this prayer of protection found in Psalm 91. No matter how tough things get, God will keep His promises.
Free Psalm 91 Download
If you would like to receive this free prayer of protection so 91 download, and a free printable, all you have to do is enter your email address into the box below and a copy will be sent directly to your inbox. This file is available in a PDF format, which should be readable on all devices. Simply download the PDF file and print it out to enjoy it as wall art around your home.
Please note that this printable is intended for your personal use only and should not be used for commercial distribution under any circumstances. Thank you so much, I hope you enjoy your free copy!
Prayer of Protection Psalm
Psalm 91 is a prayer of protection; this serves as a powerful reminder of God's faithfulness to his promises. We have gone over some of the keys and the main meaning of Psalm 91. The prayer of protection will help you remember that no matter how dangerous the situation is, you are not alone. God is faithful and he will keep his promises.
I am not a pastor, or theologian by any stretch of the imagination, I hope that this simple overview of Psalm 91 will help you to better understand prayer protection. I hope that you enjoy this free printable download and take advantage of this beautiful Bible verse to hang around your home!
Source: Bible Gateway
Like this article? Be sure to follow us online for more like it! Find us on Pinterest, Facebook, Instagram, and YouTube.
PIN for Later!
Check out more FREE printables!