Thanksgiving Potluck List Printable
Using this free Thanksgiving potluck list printable is a great idea, to help you host Thanksgiving dinner with little hassle, and have all of the food groups brought. This is a great way to organize the potluck food, so that you have enough food to go around, and still have all of the favorite dishes being brought to the gathering.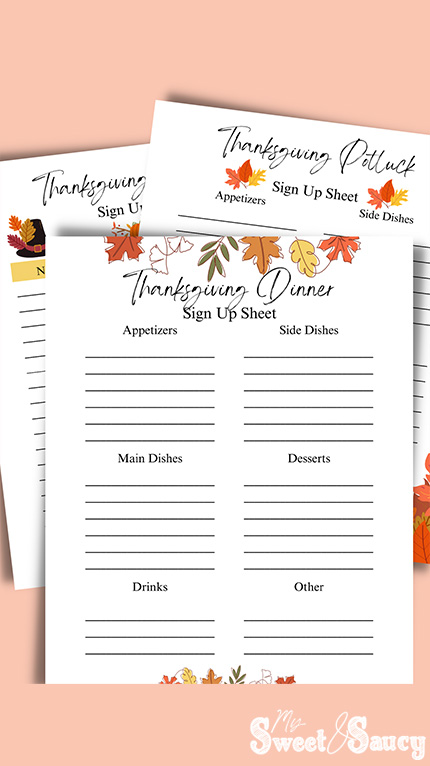 How to Easily Use the Sign-Up Sheet
There are a few different ways that you can use this sign-up sheet. Here are the main three ways, depending on your preferences.
Leave the list blank and allow your guests to write what they want to bring.
List the dishes you want to be brought, and let your guests decide which option they want to bring.
Write down specifics of what you want to be brought, and who you want to bring it.
You can allow your guests to sign up with what they want to bring, or you can assign food to them. You could also list out the specific foods you want to be brought, and then allow everyone on your guest list to choose what they want to bring from that designated list.
Using a potluck signup sheet is easy, and it helps to lower the stress if you are the host of the party. Another great thing about using a potluck sign-up sheet is that you can avoid having duplicate dishes brought to your Thanksgiving dinner.
It also ensures that you have a well-rounded meal, instead of all side dishes, or all desserts. Perhaps you can relate to this dilemma if your family is anything like mine growing up!
Using a Thanksgiving potluck sign-up sheet, it's seriously the perfect way to decrease your stress during the holiday season. It's free and easy to use!
Thanksgiving Potluck Sign-Up Sheet
The Thanksgiving meal traditionally has a lot of passing dishes. You have your main dishes, side dishes, and lots of desserts. Sometimes there are even appetizers or snacks thrown in there as well.
Another great thing about using a Thanksgiving potluck list printable is that you can be sure you have some passing dishes for each category, and you don't have to fill in the gaps by yourself, because your guests will help by bringing a passing dish, and you know ahead of time what everyone is bringing.
Main Dishes
Main dishes are of course, an important part of your Thanksgiving dinner. You might have just one main dish, such as a turkey for everyone to share.
Side Dishes
There are so many delicious side dishes that you can enjoy for your Thanksgiving dinner. If you're looking for some specific ideas for people to bring, try including cranberry sauce, mashed potatoes, sweet potato casserole, green beans, corn, and any of your other favorite dishes.
Desserts to Share
It is also important of course that there's enough dessert for everyone to enjoy. Often, there are more than enough deserts to go around, but it's always a good thing to have a couple of desserts, to satisfy your sweet tooth after a good meal. Traditional desserts for Thanksgiving are often pumpkin pie or other flavors of pie.
Thanksgiving Planner
Using the Thanksgiving planner is another great way, but to make sure that there is enough food for the number of people you were having for dinner. For Thanksgiving, it's nice to have a variety of dishes and types of dishes that are shared.
Using the free Thanksgiving potluck list printable for your next potluck party will help to decrease the stress of planning the party, but still make sure that all of your bases are covered.
Specific Food Items
You can also notate on the printable if you want specific food items brought, such a sweet potato casserole. You can know any dietary needs, and assign specific dishes to be brought if desired.
There are a few different easy ways you can go about using this potluck printable sign-up sheet. Feel free to let everyone choose what they want to bring, assign specific dishes, or tell specific people what specific dish you want them to bring.
The first step to getting started with this easy, and free Thanksgiving potluck list printable, is to first print it out for your next event. To get your free copy check out the section below!
Free Printable Thanksgiving Potluck
This free printable Thanksgiving potluck list is available to you as a free download. Please note that the free download is for your personal use only and should not be used for commercial distribution.
The download includes a PDF fillable form that you can easily pass around, for your next holiday potluck. It is also available in Google sheet, as an easy way to distribute it. You don't need to have any special programs like Microsoft Word, or Excel, the free versions will work for this download.
To get your free potluck sign-up, enter your email address into the box below, and a copy of the printable potluck sheet will be sent directly to your email inbox.
Other Uses for the Sign-Up Form
In addition to using this free Thanksgiving potluck printable sign-up sheet, for your family Thanksgiving gatherings, you can also use this for your office potluck, or class parties. It's a great way to organize what is being brought, with minimal hassle.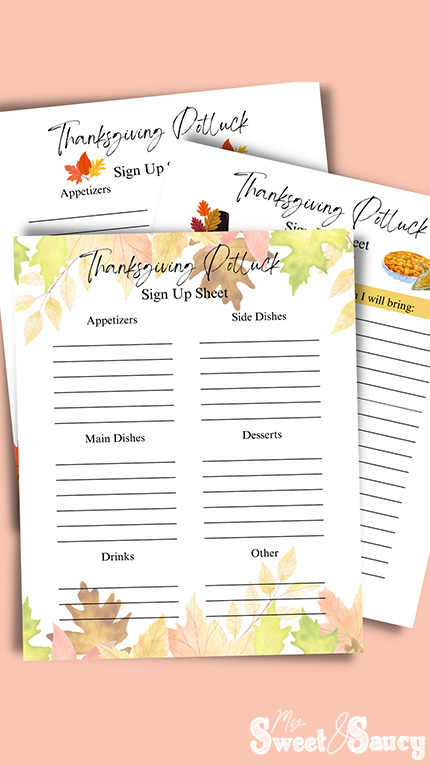 Thanksgiving Feast
With this free printable, you can be sure that your Thanksgiving feast with the whole family is going to be one to remember! You can ensure that your favorite dish is going to be there, and easily prepare your grocery list in advance. Using the potluck sign-up sheet is very easy, and a great way to visualize what is being brought.
I hope that you will take full advantage of this free Thanksgiving potluck list printable, and I hope that it will help you to easily plan your next holiday gathering. Thank you so much for stopping by!
Like this article? Be sure to follow us online for more like it! Find us on Pinterest, Facebook, Instagram, and YouTube.
PIN for Later!
Be sure to check out other free printable templates!