Ruffle Cake Tutorial
Ruffles are an elegant way to decorate your cake. In this ruffle cake tutorial, we will show you how you can decorate your single, double, or many layered cake with these beautiful stacked ruffles.
Double Tier or Single Ruffle Cake
A ruffled cake is an easy yet elegant way to decorate your cakes. You can use this ruffle cake tutorial to decorate both a single layer cake as well as a double tiered cake. This ruffle cake tutorial is applicable for any occasion you are making a cake.
Ruffled Cake Instructions
Ingredients for a Ruffled Cake
Cake Layers. Before you begin, you will want to pre-bake your layers of cake, cool them, trim them so they're flat, then stack them with frosting in between. We also recommend that you have a light layer of buttercream covering your entire cake before you start adding the ruffles. This will help them stick to your cake much better.
Prepared Buttercream. You will want to have buttercream frosting in a piping bag ready to go. You can color your buttercream frosting any color you want.
Piping Bag. In order to decorate your cake so that it has a ruffled appearance, you will need a piping bag to store the frosting in to decorate it.
Decorating Tip. You will also need a decorating tip attached to your piping bag in order to get the ribbon like appearance to your buttercream. The appropriate tip to use is called a petal tip.
How to make a Ruffled Cake
First, start off by baking your cake. Allow your cake layers to completely cool, then trim off any excess to make your layers flat.
Prepare the butter cream frosting according to your recipe. Fill a piping bag and attach your petal tip to the piping bag.
Stack your cake layers, with frosting in between each layer. Then frost the entire outside of the cake so that it is covered in a thin layer of frosting. Once you have this completed, you are ready to begin adding your ruffles to the cake.
Hold your piping bag so that the decorating tip has the thicker side of the tip facing the cake, and the skinny side facing out towards you.
Hold the piping bag vertically as you work. You will want to hold the piping bag with the frosting in it, directly up and down next to the cake so that your ruffle turns out correctly.
Start at the bottom of the cake and gently move the frosting back and forth, about an inch in width, stacking the frosting on top of itself as you go.
After you get one ruffle finished, move over and start another one right next to it, working in the same motion.
Repeat this back-and-forth motion to form all the ruffles until the cake is covered.
To finish off the top, you will also want to hold the bag so that the skinny side of the tip faces out, then repeat the same back and forth motion, so that most of the ruffles overlap, but part hangs over on one side. Do this around the entire top of the cake's edge.
Once the edging is finished, you can do the second layer if needed. Otherwise, your cake is finished, and ready to be enjoyed!
Watch Video Tutorial
Be sure to check out our video tutorial on how to make these ruffles on YouTube!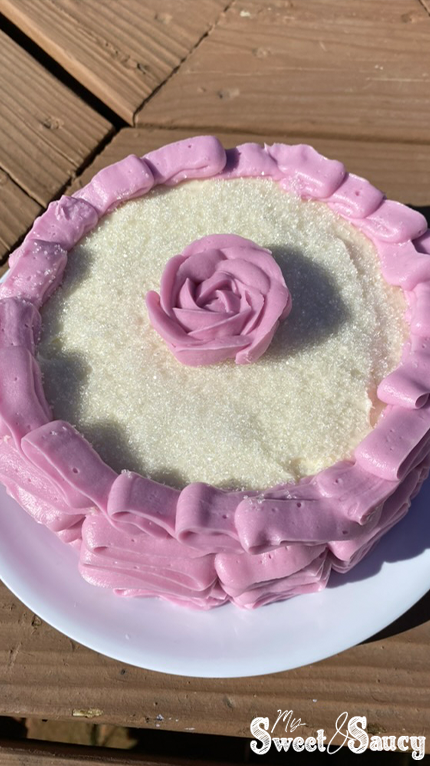 Tips and Tricks
Use Cooled Cake. When decorating any cake, it's important that your cake is completely cool before adding frosting. You may even want to chill the cake layers in your fridge or freezer before you start decorating.
Stack Ruffles. This ruffle cake tutorial allows you to stack the ruffles as you go back and forth to create the ruffle appearance. It's important that you hold your piping bag vertically so that your ruffles lay on top of one another as they are created.
Ruffle Top to Finish. In order for your cake to have a nice, finished appearance, you can make an additional ruffle around the edge of the cake to give it that finished look. The only difference with the top ruffle, is that it partly overlaps the previous ruffle, and partly overhangs.
Storage
Most buttercream cakes should be stored in the fridge until you are ready to serve them. Especially if you live in a warm or humid location, you will want to find a cool dry place to keep your cake until you're ready to serve it.
Variations
This stacked ruffle cake tutorial is very easy to do. However, in addition to this ruffle cake, there are other ways you can create ruffles on the cake as well using buttercream frosting. Here are a few variations.
Vertical Ruffles
Vertical ruffles are done using the same frosting tip, only you create vertical lines for your ruffle giving it up and down look. To create them, hold your piping bag so that the fat side is closest to your cake, then simply create vertical lines all the way around the cake.
Horizontal Ruffles
Horizontal ruffles are also done using the same tip as above. Only these ruffles create a circle around the entire cake, giving you a horizontal ruffle appearance.
Wandering Ruffles
Wandering ruffles also are made using the same frosting tip as above. The main difference with wandering ruffles is that there is no specific pattern to the ruffle, it is simply goes all over the place, and covers the entire edge of the cake in a ruffle appearance.
FAQs
What tip do you use to make ruffles on a cake?
The tip that we recommend using to create ruffles on your cake is called a petal tip. This is the same tip you would use to make rose petals. It is simply used in another way.
How to make ruffle wedding cake?
To make a ruffle wedding cake, you can use the same tutorial, whether you are covering all of the layers of the wedding cake in ruffles, or only one layer of the wedding cake.
How do you make an ombre ruffle cake?
An Ombre ruffle cake is when you typically go from a dark to light color. Often this is accomplished by having the bottom of the cake with one color, and the top of the cake in another color, and a few lighter or darker colors in between. For this ruffle cake tutorial, it would be easiest to go around the cake in ombre colors rather than from top to bottom.
Elegant Ruffled Cake
Using this ruffle cake tutorial, you get to enjoy a beautiful and elegant cake that's great for any occasion. It's so gorgeous, and classy, that it can work well for wedding cakes, or for any special occasion cake. Be sure to check out our video to see a demonstration of how you can easily make this beautiful, ruffled cake.
Like this article? Be sure to follow us online for more like it! Find us on Pinterest, Facebook, Instagram, and YouTube.