Psalm 23 King James Version Printable
Psalm 23 is a psalm of David, which depicts God as a good shepherd, who takes care of David's every need. The imagery in this chapter of the Bible is so beautiful and will get your imagination going. Based on this chapter of Psalms, I have also created a free Psalms 23 King James version printable download for you, so that you can hang this verse on the wall and enjoy it every day. 
A Psalm of David
King David is the primary author of the book of Psalms. The book of Psalms is a large book, in the Bible, located in the Old Testament. King David was a lowly shepherd boy, who was chosen by God to be king over Israel. For many years David reigned over Judah and is still known as a man after God's own heart.
The goodness of God is continually shown throughout Psalm 23. David also expresses his view of God's wonderful planet and creation. The imagery used to describe God's creation in the world around David is stunning.
David uses words like green pastures, quiet waters, paths of righteousness, the valley of the shadow of death, presence of my enemies, and the house of the Lord as descriptive pictures throughout these verses.
Through these verses, David creates a beautiful picture with his words, of God as the good shepherd, and how he takes care of his sheep. David is using this imagery, to refer to God as a tender shepherd, who watches out for his "sheep".
In these verses, it's obvious that David himself identifies as one of God's "sheep", and also includes other people who follow after God.
Psalm 23 (KJV)
"1 The Lord is my shepherd; I shall not want."
David, having a past as being a shepherd, completely understands that the shepherd is in charge of his sheep's well-being. Because he is saying that the Lord is his shepherd, and he shall not want, he is indicating that the Lord will take care of him, and his every need.
"2 He maketh me to lie down in green pastures: he leadeth me beside the still waters."
David indicates that the Lord will provide him with green pastures to rest in, and quenches his thirst, by leading him to the waters from which he can drink. Still waters also indicate that David will be calm and protected, and not have to worry about water rapids or the dangers that those could present.
"3 He restoreth my soul: he leadeth me in the paths of righteousness for his name's sake."
Do you ever feel like you're just worn out and need a break? Here David is pointing out that the Lord will restore his soul when he feels worn out and wiped out. He also says that the Lord will lead him in the path of righteousness for the Lord's names sake. This indicates that David believes the Lord will guide him on the right paths, to help him to honor the Lord, and keep God's name great.
"4 Yea, though I walk through the valley of the shadow of death, I will fear no evil: for thou art with me; thy rod and thy staff they comfort me."
In verse four, of Psalm 23 we see that David acknowledges that though he is walking in the ways of the Lord, it does not mean that his journey will be easy, or even smooth. His darkest valley became many, as he had several threts directly on his life. But through the tough times and difficulties that life will present to him, David points out that he will fear no evil for the Lord is with him. Walking with him through each difficult step.
"5 Thou preparest a table before me in the presence of mine enemies: thou anointest my head with oil; my cup runneth over."
As verse five goes on, David continues to show that God is in control even when his enemies oppose him. David was by no means unaware of the difficulties and challenges life brings. David spent a good part of his life on the run when his enemies sought to kill and destroy him.
This was in spite of him being anointed as the next king, he did not have an easy go of things. Even when he was resigning king, his life was not as easy as he may have wished. No matter the difficult trials and many a dark valley, that he went through his "cup overflows" as some versions say. He still managed to hold fast to his faith and trust in his Creator, and "good Shepard". ​
"6 Surely goodness and mercy shall follow me all the days of my life: and I will dwell in the house of the Lord for ever."
Despite all of the struggles that David encountered during his lifetime, he continues to believe in God as the good shepherd, who will allow goodness and mercy to follow David every day of his life. He also holds fast to God's promise, that he will dwell in the house of the Lord forever. The end result, is that David places his trust in the Lord, will live forever in the house of the Lord, his God.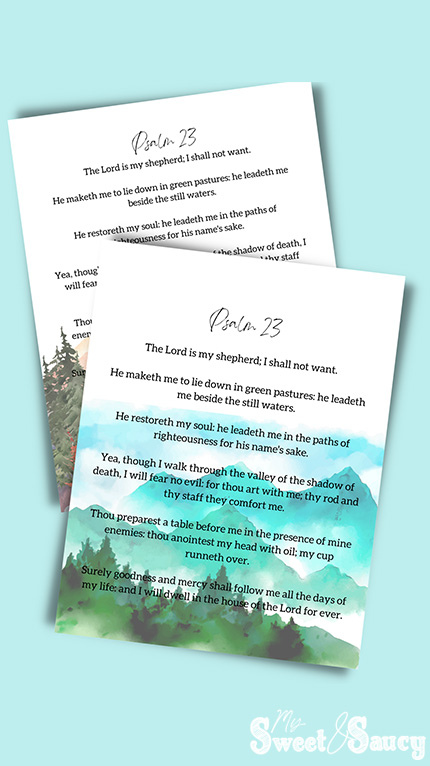 Free Download
Psalm 23, is a beautiful verse, full of gorgeous imagery and promises that David holds fast too. Like David, we may find inspiration in these verses as well. Because of this, I have made their traditional King James Version of this available to you in a free gorgeous wall print.
You can easily enter your email address into the box below and have a free PDF version of this verse sent directly to your email inbox. You can print out this PDF and enjoy it as a stunning addition to your home, or wherever you desire.
The great thing about having this to print out at home is you can enjoy it with a frame of your choice or set it on your desktop as a reminder. This is a great way to enjoy this well known verse. This wall art also comes in large print, so that you can easily read the verse from a distance. Thank you so much for stopping by. I hope you take advantage of this free download!
​Versions of Psalm 23
There are many different versions of Psalm 23. Some of the more common versions include the New International Version (NIV), New King James Version (NKJV), New Living Translation (NLT), English Standard Version (ESV), and the Christian Standard Bible (CSB). While some of the wording changes slightly between these versions, the main message of the chapter is the same throughout each translation.
Printable Psalm 23 KJV
In Psalm 23, we see David pouring out his heart to God as well as the beautiful imagery he creates with this word picture. God is very clearly depicted as a good shepherd who cares for every single need of his sheep.
I hope that you enjoy this free Psalms 23 King James version printable, truly special piece of art, and take advantage of the download. Thank you so much for stopping by!
Like this article? Be sure to follow us online for more like it! Find us on Pinterest, Facebook, Instagram, and YouTube.
PIN for Later!
Check out more FREE Printables!