Lawn Care Flyer Template for Microsoft Word
We have created a few options for your lawn care flyer template for Microsoft Word to help fit all your landscaping business needs. These free templates are a great way to gain new customers with personalized advertising, and they are completely editable so that you can add details pertinent to your business. 
When advertising your small lawn care business with lawn care flyers to try to gain potential customers, it is important that you don't spend a lot of money to get the word out there. These free downloads are a great option because they are built with Microsoft Word, and you can easily customize them to fit your small business needs. 
To help keep the cost low, these flyers can easily be utilized, then distributed in a variety of ways.
Below we will go into the different distribution channels you could use, as well as the details of what each template includes. We have prepared several different layouts with the hopes that you can find one to fit your needs.
Plus, we have created several different versions that will fit the specific niche of your lawn care company. The best way to get new customers is to clearly state what you have to offer and explain why you are the best option.
Let's look at the specific relevant information you should include in your lawn care flyers to gain potential customers.
Free Lawn Care Flyer Template
When customizing these free lawn care flyers to fit your specific business needs, you will want to be sure to add your own information. The best details to include are your contact information, such as:
– The name of your business
– Phone number
– Email address
– Your website address
– The services you offer
– A call to action
Customizing your own lawn care flyer with all your business information, including your contact details, the services you offer, as well as a call to action is vital in gaining new customers. You may even consider offering special pricing on their first project if you are able.
No matter what specific services your lawn care business offers, these free downloads can be used to feature your business's specific services. You can add your specific offerings no matter if it is lawn mowing, landscape design, weed management, hedge trimming, leaf maintenance, sprinkler maintenance, waste removal, flower bed planning and maintenance, fertilizing, design, or snow removal. 
Whatever your business does the best, make sure to state it clearly on your lawn care flyer, so that potential clients know exactly what you can offer them. Sometimes it's even a good idea to list your pricing, but that decision is entirely up to you because it may vary depending on the situation.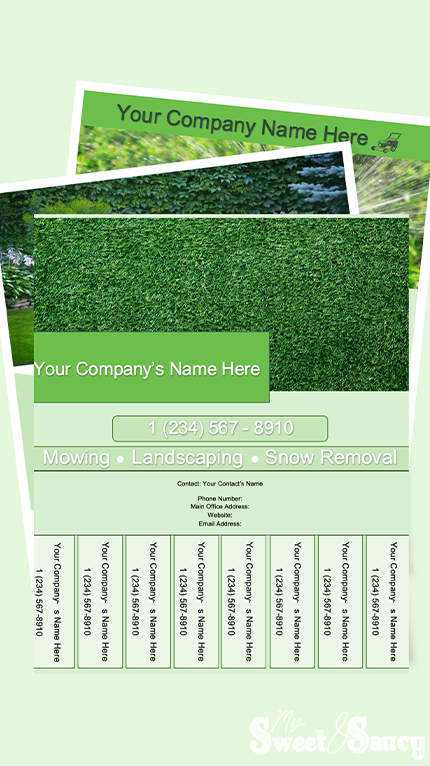 Free Templates: Lawn Care Business Flyers
Here are a few different versions you can choose from to adapt into a lawncare flyer that fits the specific needs of your business. 
Tear-off Flyer Templates
Tear-off flyers are useful for hanging up in local businesses with bulletin boards. This allows people to see your flyer and take your contact number with them if they are interested in your services.
Business Card
These business card templates let you cut them out and lay them in convenient locations for people to have your important contact details. It's like a mini flyer that they can have in their pocket.
Door Hangers
Using flyers as door hangers is a great way for people to hear the word about your services. You can drop these in neighborhoods to try to bring in more business. 
Event Flyer Template
Event flyer templates are great when you have a special promotion going on, or if you are going to sponsor a specific event.
Real Estate Flyer
Real estate flyers are great for your landscaping business so that you can feature your exquisite lawn and yard work expertise.
Each of these types of lawn care flyers can easily be used to send to your mailing list. Or for other options that keep your costs low, you can post these flyers on bulletin boards of other local businesses in your service area or business districts.
Another great use for the flyers is to attach them to parking lot poles in populated areas. Before you do this, you will want to double-check and make sure it is okay in your area, and with the business owners. 
You can also use these free examples, and once adapted to fit your specific business lawn care services, you can even save the flyers to PDF or JPG images and promote them on your social media channels such as Facebook or in an Instagram post. 
Now that you know about each of these templates, let's look at the details of these free downloads.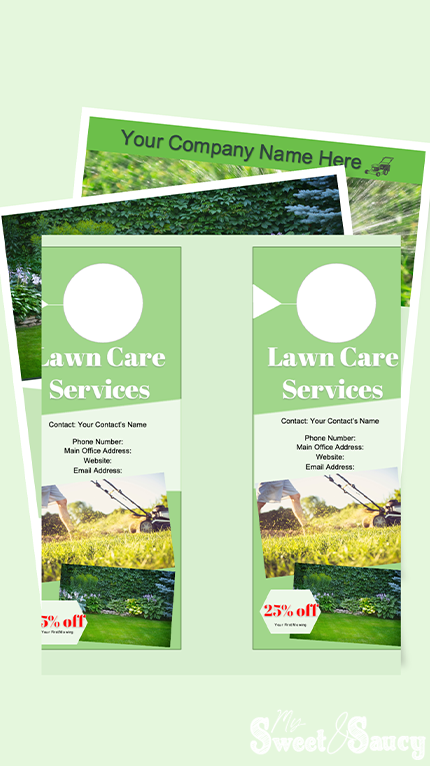 Free Flyer Template
There are a few specific needs you will want to have in order to download these files and edit them. First, you will need to have Microsoft Office since these free downloads are made as Word documents. It will help if you are using the latest version of your operating system. 
Microsoft Word allows you to customize these templates while keeping them high quality files. You can also save them as a PDF file once they have been personalized to your specific business needs.
Creating lawn care flyer templates in Word also allows you to adjust the color scheme to fit your preferences as well as change other design elements if you wish. 
To receive your free editable and printable version of these lawn care flyer files, all you have to do is enter your email address in the box below. Then your free copy will be delivered directly to your inbox.
Once you get your free copy, be sure to download the file to your desktop before adding your business information to the file. Keep in mind, these files are great to be used each year, all you have to do is update your details each time.
Please note that these files are available to you free of charge for your personal or small business use. These files should not be sold or copied and redistributed for profit.
Lawn Care Business Flyer Templates
These free lawn care flyer templates for Microsoft Word are a great tool you can use to gain additional business this season for your lawn care business. These free files are easy to use and can be customized with all of your business detail.
I hope that you enjoy using this free download for Lawn Care Flyer Template for Microsoft Word, and that these help your small business thrive this season!
Like this article? Be sure to follow us online for more like it! Find us on Pinterest, Facebook, Instagram, and YouTube.
PIN for Later!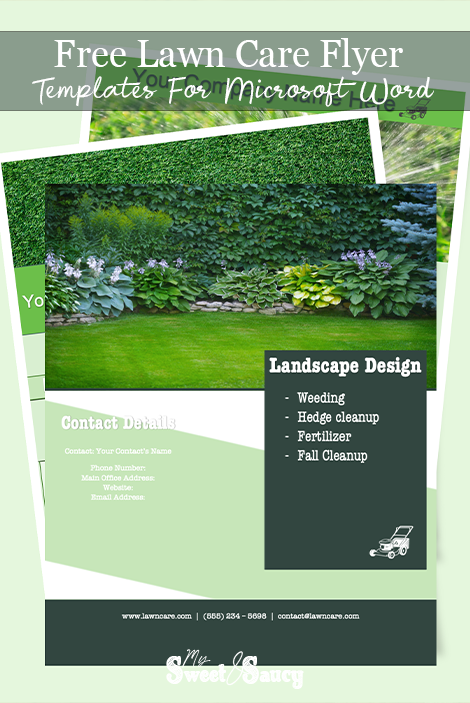 Check out more completely FREE Printables!