Get Well Soon Printable Cards
Get well soon cards are perfect to send well wishes to people you care about. With this free printable download, you can make your own printable cards using our card template. It's so easy and completely free!
We hope to have made it very easy for you to add your own personal touch by printing these cards out, adding your own text if desired, and mailing or making a personal delivery, to encourage wonderful people in your life to feel better soon and let them know you are sending them your well wishes.
Adding your personal touch by sending a get well soon card is such a nice thing to do, and a great way to show people that they are remembered, and you care about them.
No matter if you know someone who simply is under the weather, or if they are seriously sick, everyone likes to be reminded that someone is thinking of them. It also makes it so special that you took time out of your day to write them a message to remind them that they are loved and cared about.
These get well cards are the perfect thing to help remind those in your life that they are special and that even if they aren't feeling well, they are still important to you.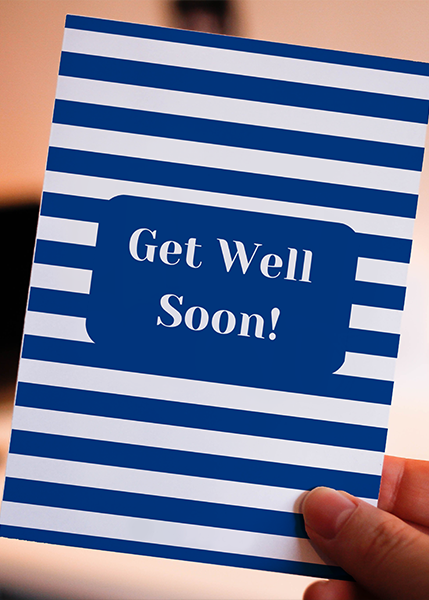 Free Get Well Soon Printable Card Template
These free printable cards are a great way to let someone special know that you care about them and wish them well. Life has many challenges, no matter if someone you love is simply under the weather, or if they are going through something much more serious and long term, we all like to know that someone is thinking about us and cares about our well-being.
Now it is easy and even low-cost to make these cards personal and encourage other people in your life. So many cards cost a lot to buy, and getting them to the individual is an added expense. These downloads help you have a low-cost alternative, and still let people know that you care about them.
Get Well Card: Printable Cards
Printable get well soon cards are a nice, thoughtful gesture for friends or a family member who is feeling sick or is very sick, and this allows you to wish them a speedy recovery from any trial in life that they might be going through.
There are many different card designs that you can choose from. Out of all of these free and beautiful cards, you are bound to find just the right fit for that special person who needs a bit of encouragement.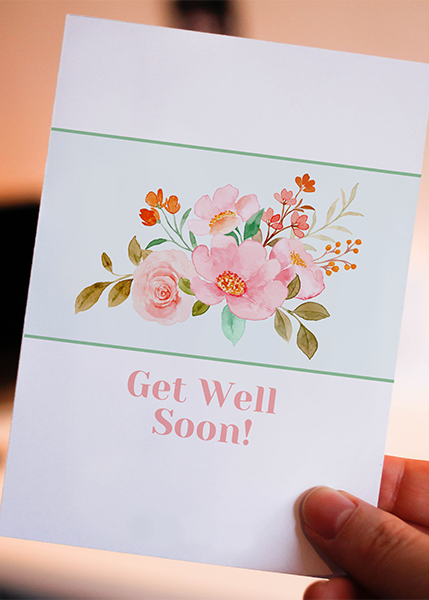 Different Options
There are several different options when it comes to your delivery method for these free printable cards. The first great option is to choose your design, download the card template, and then print it off using your home printer, or at a local print shop.
There are different options when it comes to card designs, so you can print in a simple black and white, then color it in later, or if you want to print the design in full color, that works well too!
Another great option is to email this card. All you need to send it as an email is the receiver's email address, and then just download the file and add your message before sending it off.
Perhaps I'm a bit old-fashioned, but I still think there is something about hand delivering a physical card or sending a card in the mail. But there are sometimes when an email card is a great option as well. Whatever your preferred delivery method, there are many different options available for getting these free printable cards to your loved ones.
Get Well Soon Cards: Free Printable Greeting Cards
Here are the free printables, just for you! All you must do is choose which of the card designs you like the best, and then click on the download button and a copy of the file will be sent right to your email inbox. Please note that these downloads are for personal use only and should not be used for commercial distribution.
Bright Colors
A pop of bright color often helps to cheer people who are feeling down or who are going through a difficult time. These cards were made with the intention of cheering and making someone smile.
Little Sunshine
A ray of sunshine on a cloudy day helps us all to feel better. The design of these cards, along with your personal note, will help to bring a little sunshine to those you care about when they are feeling down.
Flowers
Flowers are so gorgeous, giving cards with flowers on them helps others think of sunny days and fields of flowers. Have you ever known someone to feel bad when they are surrounded by flowers? I haven't. The flower designs on these cards will try to help cheer up those who are feeling down.
White Version
These designs are basic cards with black outlines and white backgrounds. These are perfect if you have little ones who want to be involved in coloring the get well soon cards! These designs can be printed out and colored in by kids of all ages, including kids at heart.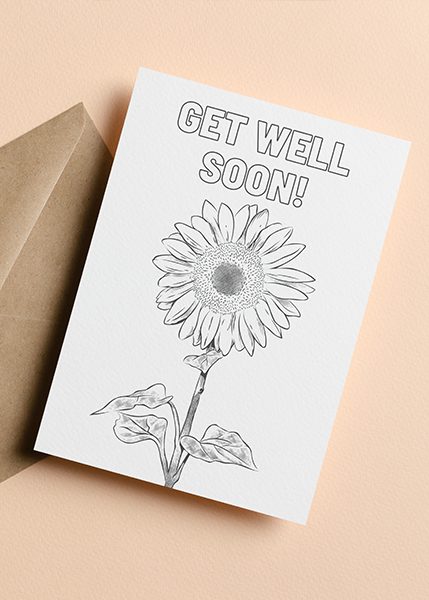 Get Well Soon Cards: Free Printable
These free get well soon printable cards are a great opportunity to encourage those around you who are sick or going through different struggles in life.
Everyone needs words of encouragement every now and then, no matter if you are hand delivering a card, or dropping one in the mail, these free printable cards are the perfect touch to let someone special know that you care about them!
Like this article? Be sure to follow us online for more like it! Find us on Pinterest, Facebook, Instagram, and YouTube.
PIN for Later!