Free Tooth Fairy Printable
If you're looking for a resource, for when your child's teeth fall out for the first time, I have you covered! I have provided a free tooth fairy printable that you can use for when the tooth fairy visits.
This is a fun way to reward your young child after they lose their baby teeth. There are several different fun ways you can implement the tooth fairy printable; we will look at some ideas for you, in addition to providing the free printable
Tooth Fairy Tradition
The tooth fairy tradition is when the tooth fairy visits after a child's tooth is lost. Whether it's the first time they have lost one of their baby teeth, or the last baby tooth to be lost, having the tooth fairy visit each time is a fun way to help your child look forward to what otherwise might not be such a fun time.
This free download includes a cute free printable tooth fairy letter or a free printable tooth fairy receipt for the baby tooth that was lost. It comes directly from the desk of the tooth fairy, and we are first going to look at some different ideas for how you can use this free download. Then the link to get your free copy is available at the end of this post.
Free Tooth Fairy Letter
It's such an exciting time, yet sometimes scary when young children lose their baby teeth. Sometimes the tooth is so wiggly that it falls right out, and other times it takes a little work to wiggle it out. Some kids get a little scared if the tooth bleeds a little bit after it has been lost.
Having something like tooth fairies to look forward to is such a fun idea. Plus, you can help promote the care for their healthy teeth, as they gain adult teeth after losing all of their baby teeth.
Using the idea of the tooth fairy you can create a special moment for young kids, then reward them with small items along with this tooth fairy printable. It's a great way to start a fun tradition and make the best tooth fairy memories.
Tooth Fairy Ideas
These tooth fairy certificate templates are a way to enjoy fun ideas centered around when your children lose their baby teeth and the tooth fairy comes to visit. There are several different ways you can enjoy using the tooth fairy reward system. Here are a few easy ways to get you started thinking.
Under Child's Pillow. What is the most common traditional way to use the tooth fairy? You can consider letting the child put their tooth underneath their pillow, then sometime during the night you come in and replace the child's baby tooth with a letter from the tooth fairy and a small reward.
Fairy Dust. Another fun way to show that the tooth fairy visited is to use glitter spray as fairy dust, leaving a trail of where the fairy has been. This is especially fun for younger children to help their imaginations thrive.
Tooth Receipt. Using a tooth fairy receipt is a fun way to exchange the tooth for a small gift or small payment.
A Special Letter. The tooth fairy can also leave behind a special letter, written from the tooth fairy to your child. You can make it say whatever you wanted to say, but it's a fun way to add a special touch to your child losing their baby tooth.
Tooth Fairy Money. One of the most common rewards for when a child loses a baby tooth is for the tooth fairy to leave behind some money. How much money you leave is entirely up to you. It could be a dollar bill, or whatever you want the going rate to be. Just keep in mind if the tooth fairy visits for every single tooth, you might not want to set the bar too high!
Tooth Fairy Pillow. Having a little pillow designated as your tooth fairy pillow is another fun idea. This can be a small pillow sitting in a designated location in the child's room. When your child loses a baby tooth, they can fit the baby tooth on the tooth fairy pillow, then the pillow is where the fairy can leave a note, and a small gift.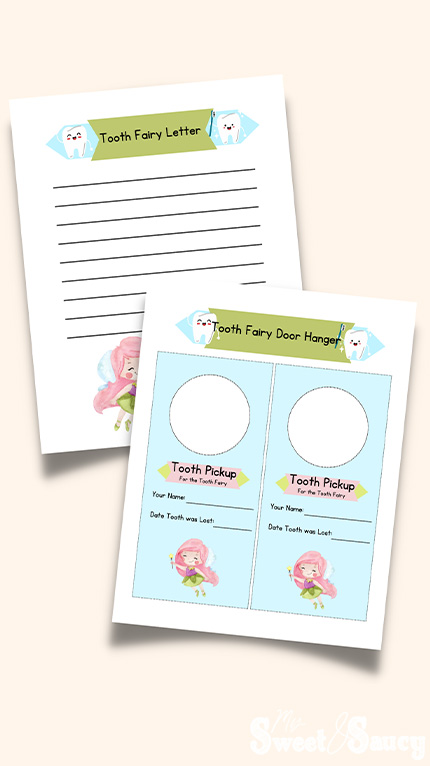 Tooth Fairy Notes. Tooth fairy notes don't have to be anything super fancy, just a simple little note from the tooth fairy will do the touch.
Tooth Fairy Door Hanger. Another fun idea is to have a designated tooth fairy door hanger. This way the child can simply leave their tooth attached to the door hanger, and the tooth fairy can visit the door hanger during the night.
Tooth Fairy Envelope. Still, another great idea to help your child through this special day, is to have a designated tooth fairy envelope. This way they can leave their tooth inside of the envelope, then check the envelope the next morning to see where the tooth fairy left behind in the designated envelope.
Lost Tooth Certificate. One of the most devastating things a child goes through is when they are looking forward to the tooth fairy's visit, whether it's their first baby tooth, or they have lost many baby teeth, is when they lose the tooth. Sometimes they swallow the tooth, and other times it's simply lost and cannot be found. The child cries and cries about not finding it, but with this lost tooth certificate, they can still have the tooth fairy visit.
How the tooth fairy comes to visit is so much fun, and a special surprise especially for younger kids. Whether it's the child's first tooth that they have lost, or whether they've lost many baby teeth, having the tooth fairy visit has never gotten old. This free tooth fairy printable makes it easy for you, to help your child's imagination each time they lose a baby tooth.
Free Tooth Fairy Certificate
With this free tooth fairy printable, you can leave a special message from the "tooth fairy" to your child after they have lost a baby tooth. To receive your free copy of this tooth fairy printable, all you have to do is enter your email address into the box below, then the free PDF file will be sent directly to your email inbox.
Please keep in mind that this instant download is available for your personal use only and should not be used for commercial distribution under any circumstances. The file is available in a PDF format and can be read on any digital device. Simply open the email, download it to your device, and print it out as many times as you wish.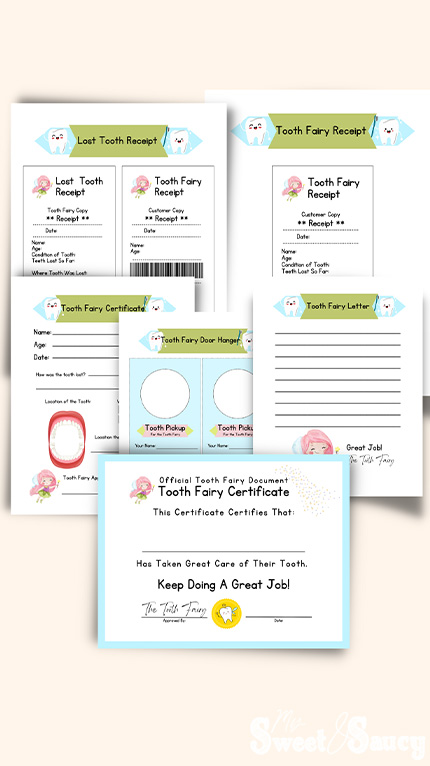 Printable Tooth Fairy Certificate
No matter if it's the first lost tooth of your child or the last baby tooth, these are important events in your child's life, and using this free tooth fairy printable can help make the process easy for you and give your child something to look forward to. This file is an entirely free version, sent directly to your email inbox.
I hope that you will take advantage of the magical tooth fairy letter and enjoy using this free printable file. Thank you so much for taking the time to stop by and check out these tooth fairy items!
For more free printables and printable ideas, make sure to visit our Printables section of the blog by clicking on this LINK!
Like this article? Be sure to follow us online for more like it! Find us on Pinterest, Facebook, Instagram, and YouTube.
PIN for Later!