Felt Finger Puppets DIY
Felt finger puppets are a fun DIY project that kids of all ages, will enjoy. These cute little guys are so adorable and inspire imaginative play with all your littles. No matter if you are looking for a gift idea, or for an easy craft, I am so excited to share these ideas with you to help you make a great project.
This is a great craft idea, that anyone can make. Below you will find a FREE PDF download with a pattern for felt finger puppets. All you need to do is gather the equipment, cut out the patterns, and then assemble them using either thread to sew the edges, or a hot glue gun to attach the pieces.
These cute little animals make adorable finger puppets so that older kids and young kids can have fun making their own set to use for puppet shows. The best part is that this craft does not have to be complicated. If you want to add a lot of detail, then you can get as creative as you want, but you can also keep it simple and still have adorable finger puppets.
Let's jump into the details of how to make your own cute felt finger puppets. Here are the materials I recommend to make this craft.
How To Make Cute Felt Finger Puppets
Materials:
– Felt sheets in various colors
– Embroidery thread
– Sewing needle
– Hot glue gun
fabric glue
glue sticks
– Googly eyes (optional)
– Scissors
Felt Sheets
When selecting the felt sheets, you can find them in a variety of sizes, anywhere from 4x4in all the way to 12x12in. I used a regular size of 8×12 to cut out the finger puppets.
Keep in mind, you don't have to buy a lot, as several puppets can be cut from one sheet. You can also cut them out of scrap pieces of felt if you have any laying around.
Feel free to choose whatever color combinations you want when making this craft.
Sewing or Gluing
There are two ways you can assemble felt finger puppets. The easiest and fastest way is to use glue. You can choose to use glue sticks, fabric glue, or my favorite for this project is hot glue.
However, if you are hesitant to use hot glue, you can also use embroidery thread, or even strong sewing thread (quilting thread) to whip stitch or blanket stitch around the felt finger puppets to hold them together. It's entirely a matter of preference.
Eyes: Googly Eyes or Sewn Eyes
Using googly eyes on the finger puppets is entirely optional. Another great option is to sew parts of their face and eyes onto the puppets. It is especially a good idea to skip the googly eyes if you are making these felt toys for young kids who could potentially swallow small pieces.
Cut the Finger Puppet Shape
To make the felt finger puppets, begin by downloading my FREE PDF printable pattern, or you can come up with your own pattern.
Then cut the felt shapes out for the finger puppets. Keep in mind that you will need two main body parts. The front will have more detail, but you will also want to cut the back pieces so that it fits over your fingers.
Make sure that the back piece and front piece match in size, or at least have enough space to attach and still leave a finger hole in the center of the puppet. When all the pieces are cut out, it is time to assemble the finger puppets by either sewing them together or gluing them together.
Glue Method
Gluing the felt finger puppets together is quite simple. Just be careful as you work, so that you don't get burned when using a hot glue gun.
First, heat the hot glue gun. Then when it is warmed and ready for use, start by attaching the pieces to the front of the puppet. Place drops or a line of glue where the small pieces go, or on the back of each piece of felt, then stick it and hold it in place for a few seconds before releasing it. Be sure to let each piece dry completely.
Once the detailed front of the puppet is glued together, run a line of glue along the inside of the main body of the puppet, leaving the bottom of the puppet open for your finger to go in. Attach the front of the puppet to the back. Hold it in place for a few seconds, then set it aside until it is cooled.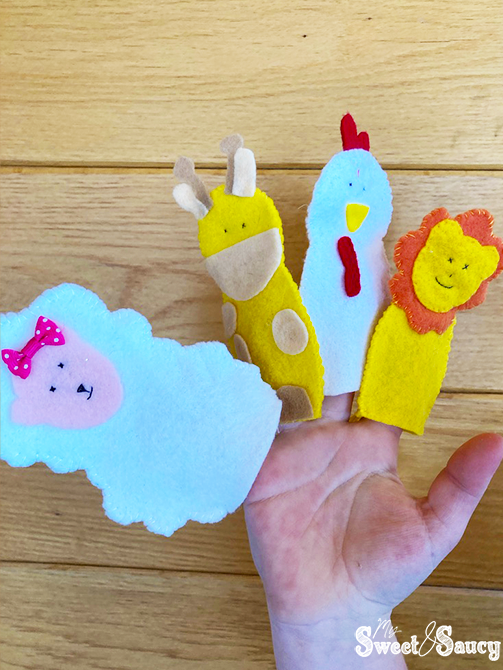 Sewing Instructions
The other way you can assemble and attach the finger puppet is to sew it together. To do this, you can use a sewing needle, along with embroidery thread, quilting thread, or your average sewing thread. I would recommend using embroidery thread or quilting thread over basic sewing thread because it is a bit stronger.
To sew the puppets together you can use a basic whip stitch or a blanket stitch. Both are easy stitches that kids can give a try.
Begin assembling the finger puppets by first sewing any small felt fabric to the front of the puppets, so that the details are attached. Then sew the back of the puppet to the front of the puppet, around the edges, leaving an opening at the bottom of the puppet for your finger.
I would recommend re-enforcing the areas near the base of the puppet, where your finger will go so that it is strong enough to not pop open.
Front of the Puppet
In my free printable pattern download, I have given suggestions for different ways to decorate the faces of these cute little guys. But when you are making them, feel free to change things up and make them into your very own! After all, that is half the fun of making a craft project!
Felt Finger Puppets DIY: Free PDF Download
As I mentioned above, the pattern that I created to make these finger-felt puppets is also available to you for free! All you have to do is click on the button below to receive your free download. I have found that it makes things so much easier, to have a base pattern to work with, then you can adapt it as you want to make it your own!
Cute Finger Puppets: Free Patterns
Farm Animal finger puppet template
Safari Animal finger puppet template
Easter finger puppets free patterns
The Easter finger puppets include a few chicks, a chicken, and a rabbit.
Nativity finger puppets free patterns
The nativity set includes Mary, Joseph, Baby Jesus, an Angel, the Three Wise Men, a Shepherd, and a few animals!
Adorable Finger Puppets
These adorable finger puppets make a super fun craft to encourage pretend play. Plus, it's a great project for kids of all ages, because who doesn't love finger puppets?! Making DIY felt finger puppets is a great way to encourage creativity, help develop fine motor skills, and make memories while having fun!
I hope you have a fun time making these little guys! If you make them, be sure to tag us in a picture on social media or leave a comment below! I love to see your projects!
Like this article? Be sure to follow us online for more like it! Find us on Pinterest, Facebook, Instagram, and YouTube.
PIN for Later!