How to Make a Seed Bead Bracelet
Learning how to make a seed bead bracelet is a lot of fun. Today, I am going to walk with you through the process of how you can make four different versions of a seed bead bracelet. Each one of them is a lot of fun to make, and they turn out beautiful. These bracelets make great gifts, or are great items to sell at a craft show. Let's jump right into some tips and tricks you will want to know about making a bracelet with seed beads, then we will dive into the different tutorials and styles of bracelet making. 
What is a Seed Bead Bracelet?
Seed beads are a type of beads that are very small beads. They are usually made of glass and come in a variety of colors. These little colorful beads can be purchased at your local craft store, at bead stores, or online. My favorite way to get them is in a multi-colored bulk package so that they are low cost and I get to enjoy many different colors.
What Size of Seed Beads Should You Use?
Selecting the right size of beads for your bracelet is an important part of making a nice seed bead bracelet. Most seed bead options are in small seed bead varieties. But what size exactly should you choose? I prefer to use 2 mm or 3 mm size seed beads. These are really small and create a lovely bracelet.
Some seed beads have different sizing as well. You might see a 10/0, 11/0, or 12/0 size seed bead. These are all quite small and will work well for these bracelets.
Should you use Wire, Cord, or Thread?
For many kinds of jewelry making, you will want to use small memory wire or stretchy cords. However, in this case, it is going to work best if you use a type of strong thread. You can find the strong thread at your local craft store in the jewelry section or order it online. Another option, if you can't find the strong thread is to use a double strand of strong quilting thread as an alternative option.
Tips for Seed Bead Bracelets
Bead Holes. When selecting your seed beads, make sure that your bead holes are big enough to fit on your string, and through your bead needle. If you are using durable thread and a beading needle, this should not be a problem for the small seed beads.
Enough Beads. The other thing you will want to be sure of before you begin is that you have enough beads to make your desired project before you begin.
Seed Bead Projects
There are so many different projects that you can enjoy making with little seed beads. When specifically looking at bracelets, using seed beads, there are many different ways you can make the bracelets as well.
Let's look at some of the different types of seed bead bracelets you can make. We will go over each one of these methods with step-by-step instructions in the details below.
Types of Seed Bead Bracelets
Daisy Bracelets. Making daisy bracelets is one of my all-time favorite seed bead bracelet-making methods. This type of beaded bracelet is made with a chain of daisies. You can make the flowers with spacer beads in between each flower, like they are growing on a stem, or make the entire bracelet out of daisy flowers. It's entirely up to you, but this method is a lot of fun and is a great project for all ages to enjoy.
Right-Angle Weave. The right-angle weave bracelet is a flat bracelet made with different colors in a right-angle pattern. This pattern is a fun one to add different color combinations to.
V Bracelet Design. The V-shaped bracelet design is a seed bead bracelet that looks a lot like the V design in friendship bracelets. It is called the "V" seed bead bracelet because the pattern looks like a "V" shape.
Stretch Bracelets. Making a stretch bracelet is a very simple project that your young children might enjoy making. Not only can kids make these easy bracelets, but you can also use different types of decorative beads, or bead sizes to make this type of bracelet quite snazzy!
Now that you know the different types of seed bead bracelets that we are going to cover, let's take a look at the supplies you will need in order to make these different kinds of bracelets.
Supplies for Seed Bead Bracelets
Seed Beads. I like to use small seed beads for these bracelets, preferably 2mm or 3mm in size or sizes 10/0, 11/0, or 12/0 seed beads.
Beading Needle. A beading needle is a special kind of needle with a small head. It is very important that you use this type of needle so that it can fit through the small beads without getting stuck.
Beading Thread. Choosing the right thread is very important in making your seed bead bracelet. You will want to select a durable thread for this project.
Jewelry Clasp. You can select your choice of jewelry clasp for these bracelets. The idea is to find a good way to hold the bracelet together.
Optional Supplies
These optional bracelet-making supplies are not required and are entirely up to you if you want to use them or not.
Crimp Bead. The crimp bead is used as a bead to hold everything in place. You can also use it as a bead stopper so that the beads don't fall off as you work.
Crimp Cover. The crimp cover is a specific type of bead that you might want to use to cover up the crimp.
Center Bead. The center bead is entirely optional. This is usually a bigger bead that you can use as a focal point if desired. This might be good in the stretch bracelet if desired.
Beading Tray. Using a beading tray might be a good idea to help you keep all of your beads from ending up everywhere. You could also choose to use a rimmed plate or pan to help contain your beads if desired.
Seed Bead Bracelets: Step-By-Step Tutorial
Starting the Bracelet
To start any bracelet, you will first want to cut your length of cord. If you are making any except for the elastic cord bracelet, you will want to allow plenty of extra cord.
Tie the cord to a clasp of your choice, cut the excess threads, and add a small dab of glue to the ends of the threads to keep them in place.
Then choose your desired bracelet pattern from the options below, to begin making your bracelet. Follow the instructions for the specific bracelet pattern until your bracelet is your desired length. Then when you reach the end of the bracelet, tie the remaining clasp in place, cut off any excess thread, and add another drop of glue to the knot to hold it securely.
Right-Angle Weave Bracelet
This right-angle type of seed bracelet is a kind of stitch bracelet designs. It is made flat and created in your desired color pattern.
Step 1
To start out add 6 beads onto your thread. You should have four border colored beads and two different-colored beads. The last bead will be the color of your first row.
Once all of the beads are on your thread, take the needle and insert it back up from the bottom of the beads, going through all of them again. Pull them tight to make a square with three beads on each side of it.
Tie a tight knot. Insert your needle back up through the two different colored beads that were added last.
Step 2
Next, add three beads. The first should be your border color, and the next to, be the same color as your last bead added, to complete the row in the same color.
Insert your needle down, skipping the first, and inserting it through the same colored bead as the two currently on your needle. Pull the thread tight.
Step 3
Next, add one border colored bead, and one bead of your desired color for the next row. Thread the needle up through the last colored bead in your first row that was made.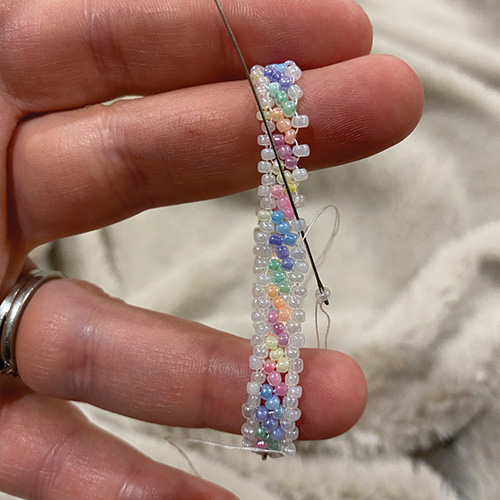 Step 4
Now add one border colored bead, and two colors of the row you are making. Thread the needle down through the same colored bead and pull it tight.
Repeat steps three and four until the bracelet is your desired length.
V Shaped Bracelet Design
Step 1
To start making the v-shaped seed bead bracelet, you will add one bead, your clasp, and two beads that are all the same color. Tie the thread into a tight knot. Your clasp should be on one side, and your three beads tight together at the base.
Step 2
Holding the clasp in your left hand, insert your needle up through the center bead.
Step 3
Add three beads of the next row's color onto your thread. Insert the needle from the bottom, up through the center bead on the previous row. Pull the thread tight.
Step 4
Flip the beads over, and push the needle up through the first and middle beads of the three you just added.
Repeat steps 3 and 4 until the bracelet is your desired length.
Once it is the length you wish, add one bead of the last row's color you made, your clasp, and one more bead. Pull the thread tight and tie a knot. Then it's time to take your length of thread and go down the side, adding more beads to make the bracelet much more solid.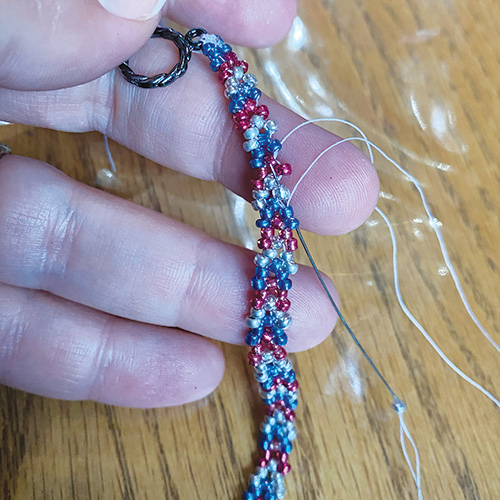 Step 5
Thread your needle through the base of the "v" pattern for the first color, add the same color bead to your needle, and thread through the next bead below it.
Add the next colored bead to your needle and insert your needle through it working your way down the side. Repeat these steps until you get to the beginning of your bracelet.
Insert your needle through the first bead on the bracelet to get to the other side, then turn the bracelet and continue adding beads to the edge while you work your way up the remaining side of the seed bead bracelet.
When you reach the end, tie a tight knot, add a drop of glue if desired, and cut off any excess thread.
Seed Bead Daisy Flower Bracelets
Making a daisy chain bracelet with seed beads is one of my favorites! To do this you will want to select what colors of seed beads you want to use for the petals, and what colors you want for the center. Keep in mind, you can make an entire bracelet of daisy chains, or use green beads in the middle as spacers, which will also look like the flower stems. Now, let's look at the step-by-step instructions on how to make a flower bead bracelet.
Step 1
Start by adding your spacer beads in your desired colors. In the pictures, I used green and added 2 of these seed beads. Next, add 4 petal beads in your desired colors, and 1 bead of the center color.
Take the needle and insert it back through the first petal bead added to your string. Pull the string tight. You now have half of the flower petal made.
Step 2
Next, add 3 more seed beads in the petal colors. Insert the needle back through the last petal bead added the first time. Pull the thread tight, to finish out the first flower petal.
Repeat steps outlined here, adding your 2 spacer beads, then create the first seed bead loop by adding 4 petal beads and 1 center. Insert the needle and pull it tight, before adding 3 more petal beads. Repeat these steps as many times as desired until your bracelet is your desired size. When you get to the end of the beading, tie your clasp on, then push the needle back through the beads before cutting it to hide the ends.
Keep in mind, you can change to a new color for the beads whenever you wish if you want a fun color pattern for your flowers.
Stretch Bracelets
Stretch bracelets are very simple bracelets made by using elastic cord and strung beads on the cord, to make elastic bracelets. These can be made with smaller beads, letter beads, gemstone beads, large hole beads, or pretty much whatever you are in the mood to use!
To make these elastic corded bracelets, start by cutting the stretch magic cord to your approximate desired size. Keep in mind, you will want to leave a little extra for tying the ends together.
Then tape or use a bead stopper to keep the beads from falling off. String your beads as desired onto the cord, then tie a tight knot when you are finished adding your beads. Cut off any excess cord to finish off.
DIY Bracelets Jewelry-Making Tutorial
Now that you know these different methods for easily making seed bead bracelets you can begin starting your own project today! There are several great pattern options to choose from, so make sure to give them a try and see which one you enjoy the best.
Thank you so much for stopping by to learn how to make a seed bead bracelet. I hope that this tutorial has been helpful to you!
Like this article? Be sure to follow us online for more like it! Find us on Pinterest, Facebook, Instagram, and YouTube.
PIN for Later!