Beaded Hoop Earrings Patterns
I am so excited to share these beaded hoop earrings patterns with you, in the hopes that you will find a jewelry making idea that will inspire you, and you will want to try it out for yourself. There are a lot of fun and different ideas as to how you can go about making beaded hoop earrings. Plus, these earrings make a great project that you can make for gifts, or for yourself to enjoy!
What Beads Are Used?
There are a few different types of beads used to make beaded hoop earrings. Most of them use tiny beads for jewelry making, like seed beads. If you have never heard of seed beads, these are very small beads that are usually made of glass. These little beads can be used in many different ways, and one of the best uses is to make pretty beaded hoop earrings.
These little beads, come in a variety of bead color options. If you are looking to make a generic pair of earrings that can be worn for any occasion, then using white seed beads is always a great option.
Really though, the little seed beads come in a few different size options, and so many different colors, it might be hard to choose the color combinations you want to use, but there are so many pretty colorful seed beads.
You can find the seed beads sold by the color, or in a variety package at your local craft store. These little beads can be combined with larger beads or used by themselves. There are also a variety of ways you can incorporate these seed beads into hoop earrings.
One special way that seed beads in particular can be used is to use what is called a brick stitch hoop earring pattern to add the seed beads to the earring hoops. Another great option is to simply string your desired colors of beads onto wires to create your own easy hoop design. No matter how you choose to make your beaded hoop earrings, you can make these patterns for special occasions, for gifts to give away, or even to sell at craft shows.
Other Types of Beads
In addition to the pretty little seed beads, you might enjoy incorporating a few other bead options into your beaded hoop earrings. Some other great options include using metal bead earring, crystal beads, bugle beads, and delica beads. These are all larger beads that you could use alone or combine with seed beads to give a nice accent to your beautiful earrings.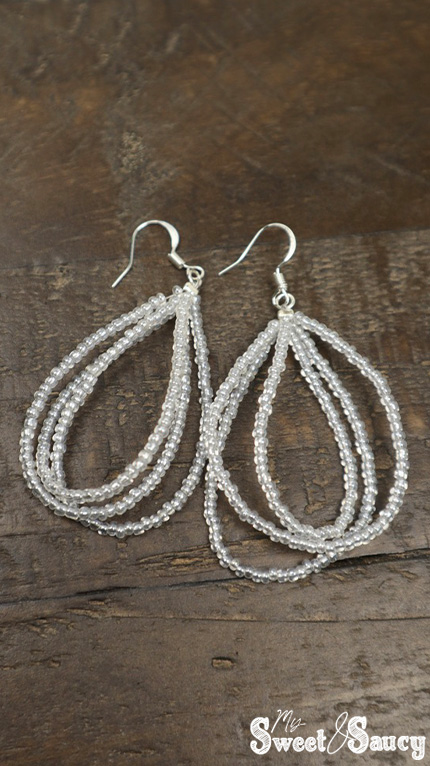 Hoop Earrings Patterns
In these different earring patterns that I am going to share with you below, you will find a variety of earring ideas. Some of them are beginner DIY hoop earrings. These are going to be ideal if you are new to jewelry making.
Then there are other beading patterns like the native American seed bead hoop earrings. These are beautiful ideas with a variety of bright colors. You might also enjoy checking out the native American brick stitch hoop earrings. These are hoops that also incorporate the brick stitch, and usually use small seed beads to make up the intricate designs.
Before we jump into the different beaded hoop earring patterns, let's look at some of the earring-making supplies you might want to have on hand before you begin. When you have selected the exact pattern, you want to make, be sure to reference their supply list so that you have everything you need.
Supplies to Make These Handmade Pieces
Earring Hoops. These are the wire hoop that you will often want to use as the base of the earrings.
Ear Wires. Ear wires are the part of the earring that hooks through your ears to hold the earrings in place. Some patterns may need these, and others may not, depending on the style of hoop you choose to make.
Beading Needle. A beading needle is a special kind of needle with a small head so that it can fit through the smallest of beads.
Colorful Beads. The type of beads you decide to use will depend on how you want your earrings to turn out. Most likely you will want to use some small seed beads, but you might need other kinds as well.
Memory Wire. Memory wire is often used in these earring patterns. Make sure to reference your specific pattern for the exact gauge wire you should use. Another option might be to use some strong thread in place of the wire.
Pliers. Depending on the specific pattern you may want to have some round nose pliers or chain nose pliers on hand for your jewelry making.
Wire Cutters. When working with memory wire, you will want to have wire cutters so that you can trim away any excess wires.
Hoop Earring Designs
Now, let's jump into the different beaded hoop earrings patterns with step-by-step instructions on how to make each of these different patterns. When you find one of these original patterns that inspire you, make sure to click over to the pattern to get the free tutorial with specific instructions for those earrings. I hope you find just what you are looking for!
Beaded Hoop Earrings Patterns
Beaded Hoop Earrings
Now that you have had a chance to look at all of the different beaded hoop earrings patterns, it is time to get started creating your of pair of earrings! There are so many different options as to how you can create beaded hoop earrings. Make sure to take the different aspects that you like the best to incorporate them into your own earrings.
Thank you so much for stopping in to see these different beaded hoop earring patterns! I hope that you have found a pattern idea that inspires your creativity. Now it's time to get started making your own project!
Happy Jewelry Making!
Like this article? Be sure to follow us online for more like it! Find us on Pinterest, Facebook, Instagram, and YouTube.
For an easy tutorial brick stitch, be sure to check out these Beautiful Seed Bead Earrings!
PIN for Later!